31, May 2017
Manufacturing Views from the Summit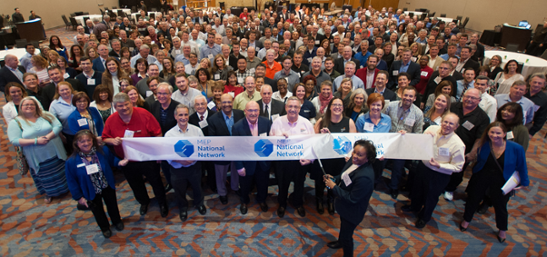 by Carroll Thomas
Manufacturing is changing at an extraordinary pace and in unbelievable ways.
Recently, the MEP program hosted the 2017 National Summit to provide training and best practice sharing opportunities for the people in our national network who work tirelessly to strengthen U.S. manufacturing. The objective was to provide the information, connections, and resources needed to expand their capabilities and better position our trusted advisors to serve and guide manufacturers through Industry 4.0 and beyond.
Just a Little Background
If you are not already aware, there are 51 MEP Centers located in all 50 states and Puerto Rico and 1,300 trusted advisers and experts across the country. The national network is accessible through our trusted advisors or partners, who are located within a few hours of any manufacturer in the U.S. Last year, the MEP National Network connected with more than 25,000 manufacturers, helping them achieve more than $9 billion in sales and create or retain more than 86,000 jobs. And with a national Net Promoter Score of 79.8, MEP clients rated their customer experience well above industry benchmarks and indicated a strong likelihood of recommending their MEP center to others.
MEP Connects
The theme of this year's summit was "MEP Connects," which is exactly what this dedicated and passionate group of people does for manufacturers and their communities all across the country. MEP connects communities with solutions to support manufacturers, thus creating more well-paying jobs. MEP connects manufacturers with the expertise, knowledge, strategic solutions and trustworthiness to support their businesses. As one manufacturing client said:
"The MEP is a facilitator for making connections…If I have a question, I will put [my local MEP Center] on the top of the list."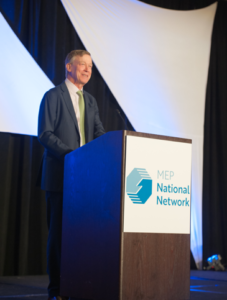 Colorado Governor John Hickenlooper addresses attendees at the Summit.
During the Summit, we focused the more than 70 sessions around three tracks related to manufacturing technology and trends, extension services and knowledge sharing, and partnerships and ecosystems. The last of these covered such areas as operational excellence, continuous improvement, embedding MEP into Manufacturing USA Institutes, NIST Labs, cybersecurity, new manufacturing technology, and workforce.
Thanks to the Colorado MEP, Manufacturer's Edge, we heard from Governor John Hickenlooper, who discussed how manufacturing makes Colorado such a strong economy in the country and stressed how critical it is to have flexible pathways in each state to train and retrain people for manufacturing's changing and new jobs. He also shared his interesting personal story: he was the first geologist to become a governor in U.S. history, as well as the first brewer since Sam Adams in 1792!
Other keynote speakers included:
Robert Horton, CEO of GPS Source, a veteran-owned company, on its manufacturing story as a Buy America supplier;
David Woessner, general manager for Local Motors, who spoke about company values, disruption, co-creation, micro manufacturing and why Local Motors exists—to shape the future through making;
Thom Singer of Conference Catalyst, on the power of human engagement and making meaningful connections;
Matt Tyler, CEO of Vickers Engineering, on using automation to create more jobs, grow the company and diversify its customer base; and
Cindi Marsiglio, vice president, U.S. manufacturing for Walmart, who encouraged MEP Centers to help identify suppliers to provide U.S.-made goods to Walmart customers.
What's Next
One of the last sessions at the Summit was titled "Future of Manufacturing Policy," which included thought leaders Scott Paul of Alliance for American Manufacturing, Ned Hill of Ohio State University, and Sue Helper of Case Western University. They discussed the major trends they see shaping manufacturing now and into the future, the challenges that lay ahead, and appropriate tools that will enable manufacturing to remain a vital, vibrant, and important part of the U.S. economy.

The session "Future of Manufacturing Policy" included thought leaders Scott Paul of Alliance for American Manufacturing, Ned Hill of Ohio State University, and Sue Helper of Case Western University.
It's an exciting time to be in manufacturing.
While much has changed in the industry, there is one thing that I believe has remained the same over the course of close to 30 years. The MEP National Network is an extraordinary national treasure and local resource. In the coming months, you'll be hearing more from me about our new national network brand to better enable us to fulfill our mission and serve more manufacturers. In the meantime, please learn more about ways your local MEP can assist you in your state.
About the Author: Carroll Thomas is the Director of the NIST Manufacturing Extension Partnership. In her role as Director, she is responsible for a nationwide network of centers to help U.S. manufacturers compete globally, supporting greater supply chain integration and providing access to technology.
This article originally appeared on the NISTMEP Innovation Blog. http://nistmep.blogs.govdelivery.com/manufacturing-views-summit/
Upcoming Events
Impact Dakota Blog