ND Manufacturers' Capabilities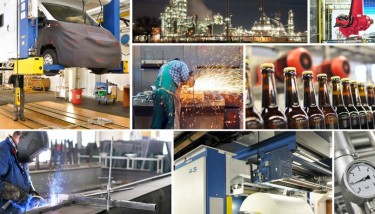 Impact Dakota has created this site to identify North Dakota manufacturers with contract manufacturing capabilities and capacity available for companies seeking contract manufacturing support or access to specialized products. Information to be displayed on this site will be limited to companies with manufacturing capabilities.

If your company is interested in displaying information about your capabilities and capacity on this site, please contact Laurie at Impact Dakota to post your information.
Kustom Machine can work with customers on a variety of projects whether it's prototype work or large run production pieces. We stock a variety of material in a range of sizes and thicknesses. Turnaround times could be anywhere from 1 – 2 weeks; depending on material availability and processes needed.

Capabilities:

Welding: mild, stainless or aluminum
CNC Mill or Lathe machining
Waterjet, precision cutting
Metal Fabrication: Press Brake, Shear, Saw
Manual tooling

Emily Ptacek
701-742-3188
eptacek@kustommachine.net
www.kustommachine.net

Dakota Micro, Inc. is the exclusive manufacturer of the AgCam, EnduraCam, InnoPro, RazerCam and OverView rear view and surveillance camera lines. The AgCam, EnduraCam & InnoPro cameras and all associated adapters and cables are manufactured at our facility in the United States (North Dakota). Dakota Micro, Inc. also provides custom manufacturing to a wide variety of industries including, but not
limited to; adapter cables, extensions cables, cable assembly, low pressure injection molding and light electronics assembly.
More Info

Gary Manske
C: 701-892-4011
P: 701-538-4403
gary.manske@dakotamicro.net
www.dakotamicro.com

PS Industries is an OEM Manufacturer of industrial doors, safety gates and flood protection barriers. Additionally, PS Industries is a fully capable contract manufacturer capable of performing a wide variety of manufacturing operations, in-house, for external customers.
More Info

Cory Melland
701-795-6528
877-446-1519
cmelland@psindustries.com
psindustries.com

Harris Machine Company (HMC) is located in Oakes, ND and operates two facilities with approximately 50 employees and 120,000 square feet of manufacturing space. HMC is currently an approved Department of Defense supplier (CAGE Code: 6LPH0) with excess capacity in the following areas: Steel fabrication, CNC machining, welding, powder coat painting as well as assembly.

Jay Harris
701-742-2536 Ext 110
jharris@harrismachineco.com
harrismachineco.com

Sund Manufacturing provides complete turn-key services with structural welding, pipe welding, pipe fitting, construction, and electrical all done on site.
More Info

Lloyd Sund
President
701-272-6161 ext. 120
lloyd.sund@sundfmg.com
sundmfg.com

LulzBot is a large 3D printer farm headquartered in Fargo, ND. They support a large range of printing capabilities and can be easily customized to support a variety of niche applications. 200-300 3D printers available to produce any plastic object with a 3D file. They can print many plastics such as PLA, ABS, ASA, HIPS, PETg, TPU, and any other common 3D printer filament. Staffing capacity available to support assembly of products they are involved in producing.

John Olhoft
President
970-377-1111 ext. 207
jolhoft@lulzbot.com
www.LulzBot.com

MidMach in Jamestown has capabilities in engineering, certified welding, pipe welding, laser cutting, forming, very large part powdercoating, assembly and delivery. We have extremely fast lead times and a very long history of providing high quality parts on time, every time. We would love to visit with you about your supply chain needs.

Casey Veil
701-252-4275
casey@midmach.com
www.midmach.com

Plastics Plus is a plastic fabrication Company in Bismarck, ND, who has been making lab shields, sneeze guards, and a few face masks. At the present time there is limited capacity to continue to produce the plastic face masks due to a material shortage in the U.S. However Plastics Plus has acrylic, polycarbonate, and other plastic materials available to fabricate. The most abundant plastic material on hand and access to is 1/8" acrylic. If there is a need for a product that can be produced from the 1/8" acrylic, the company is open to ideas. Other materials on hand, available for production include nylon, UHMW, and HDPE.

Joanna Lozensky
701-223-2115
plasticsplus@midconetwork.com
www.signholdersusa.com

Total Ag Industries in Hillsboro is a state of the art 90,000 square foot assembly, warehousing, and shipping facility along with designing and manufacturing of variable rate and ground drive liquid fertilizer systems for planters and side dressing applications. We offer a wide range of outsourcing assembly capabilities for agricultural and commercial applications and work closely with our many manufacturing partners to deliver the highest quality products to meet there high standards of excellence.

Pat Muller
701-636-4524
mullerpat@hotmail.com
www.totalag.com

Midwest Fabrication, LLC is a contract manufacturer of large scale, heavy-duty equipment for a variety of industries, from farming to the oil fields. We offer fabrication and machining servies, working out of a 80,000 square foot facility in Grafton, ND, which is located only 10 miles from Interstate 29, a major North-South shipping corridor.

Duane Jonasson
O: 701-379-0199
F: 701-379-0107
C: 701-331-0456
duane@midwestfabnd.com
www.midwestfabnd.com