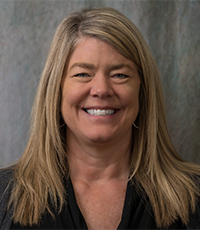 Board of Directors: Julie Whitney - Treasurer
Fargo/Moorhead Market President
Bremer
With over 25 years of experience in accounting, finance and commercial lending Julie joined Bremer Bank in 2017. As Market President, she oversees commercial banking in Bremer's Fargo Moorhead Market. Prior to joining Bremer, she served in roles as Finance Director, Vice President of commercial banking and Senior Auditor.
Active in the communities in which she serves, Julie's current volunteer work includes Public Policy Committee Member of Fargo Moorhead West Fargo Chamber of Commerce. Member of the North Dakota District Export Council, Board of Directors of Minn-Dak Manufacturers Association, a non-profit organization supporting manufacturers in the Fargo/Moorhead/West Fargo community. And formerly Board of Directors of Enterprise Minnesota, a public/private partnership serving manufacturers throughout the state of Minnesota. As a Rotarian, Julie is currently active in fund-raising for a Fargo/Moorhead area joint-Rotary Natural Play Area project, to be built along the banks of the Red River, within walking distance of downtown Moorhead and downtown Fargo.
Formerly from the St Cloud area, Whitney was active in Junior Achievement of the Upper Midwest as Treasurer, Board of Directors and Finance Committee; City of Sartell - Economic Development Commission; Central Minnesota Manufacturers Association - Program Committee and Tour of Manufacturing Committee; Big Brothers Big Sisters - Board of Directors, Fund Development Committee, Sponsorship Committee Chair, and Advisory Council; Rotary Club of St. Cloud - Board of Directors, Treasurer, Secretary, and Volunteer; United Way of Central Minnesota - Board of Directors, Community Vision Council Chair, Finance Committee, and Live United Lifetime Award recipient.
Upcoming Events
Impact Dakota Blog