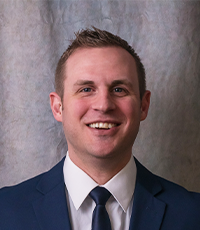 Contact Information:
Phone: 701-425-3286
Cell:
Fax: 701-354-0991
Kelan Moser
Senior Business Advisor
Kelan Moser, Sr. Business Advisor, is an experienced Supply Chain professional that has spent the majority of his professional life working in Aerospace and Defense industries.
He joined Impact Dakota after working over 14 years at Collins Aerospace (a Raytheon Technologies business unit) at the Jamestown, ND location. Moser held various roles where he developed and executed global strategic sourcing plans, conducted domestic and international contract negotiations, performed AS9100 internal audits, achieved Collins Lean Practitioner certifications where he is experienced in Value Stream Mapping, strategic planning/policy deployment and managing suppliers.
When asked what he most enjoys professionally, he answered "Seeing the success of his suppliers/customers and knowing that I had a part in it." This remains true and Kelan is extremely excited to serve and support the manufacturers of North Dakota.
Kelan obtained his Bachelor of Arts degree at the University of Jamestown with a Business Administration major with focuses in Management and Business and Professional Communications.
Kelan is married and lives with his wife and two daughters in Jamestown, ND. When not working, he enjoys hunting, fishing, and spending time with his family.
Upcoming Events
Impact Dakota Blog