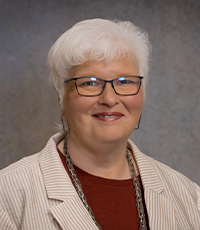 Mary Ingman
Senior Business Advisor
Mary Ingman joins Impact Dakota with over 20 years' experience in business and manufacturing. From owning a retail business and then venturing into manufacturing, Mary has a well-rounded knowledge base.
Mary has held roles as process engineer, quality manager and program manager as a supplier to aerospace companies to include commercial aircraft and military. In addition, Mary has served as Quality Improvement Manager and Manager of Supplier Development for steel fabrication facilities.
Mary has an in-depth background in quality management systems to include ISO 9001, ISO 13485, American Petroleum Institute Q1 and AS9100, to include certifications of multi-site facilities. Mary has worked closely with large teams to bring quality management systems and inspection processes to companies both as an employee and as a consultant.
As Manager of Supplier Development, Mary led continuous improvement activities and training at supplier facilities to create capacity, reduce lead times, and reduce costs. Included in this role was all supplier quality activities.
Mary has fluent knowledge and expertise in 8D Methodology, Root Cause, 5 Whys, Fishbone Diagrams, PDCA, use of DMAIC problem solving, 6Ms of Production.
Mary holds a Lean Certification from Purdue University and is excited to serve manufacturers in the area of continuous improvement, Lean Manufacturing. Mary can assist in kaizen, 5 S, value stream mapping, process mapping, rapid improvement projects, and Lean training.
Mary has a background in strategic planning and has project management experience. She is a proven leader in implementing new programs, systems, and shaping company culture.
Mary obtained certification as a John Maxwell trainer, mentor, and coach in 2016 and conducts leadership training which is a passion for her. She coaches groups as well as individuals to improve their careers, lives, and teams through teaching communication, teamwork, servant leadership, inspiring others, and retaining a solid workforce. This training led her to completing a Human Resource Management certification through Villanova University to better offer solutions to medium and small businesses that find it infeasible to keep full time staff dedicated to these roles.
Mary has created training plans and programs for several companies including use of Training Within Industry, creation of standard work, leader standard work, work instructions and has even implemented a weld academy in one company to prepare new welders and welders that want to increase their skills and ability.
Mary has fluent knowledge of implementing programs for ASME Section VIII, Div. 1 processes for manufacture and repair of pressure vessels to include stamps for "U", "UM", and "R".
Mary lives in Dickinson, ND with her husband. She has three children and 5 grandchildren. She enjoys spending time with her family, yearly vacations to Yellowstone Park and most anything related to outdoors and wildlife.
Upcoming Events
Impact Dakota Blog