3, January 2023
5 Things We Learned in Germany
Credit: iStock/monkeybusinessimages

By: Matt Fieldman

I'm sure you've heard the buzz around the German apprenticeship system – but does it really live up to the hype?
That's what a recent mission of 16 workforce professionals from around the United States set out to learn. Supported by the Transatlantic Program of the Federal Republic of Germany, funded by the European Recovery Program of the Federal Ministry for Economic Affairs and Climate Action, and coordinated by America Works in partnership with the American Council on Germany, the October trip was truly a team effort. Our group included eight professionals from the MEP National NetworkTM and eight from other partner organizations – representing 11 states and a variety of educational, manufacturing and government backgrounds.
One of our goals was to educate our peers across the U.S. about what we learned in Germany. To that end, we recently held a webinar sharing our experience with more than 100 attendees from the MEPNN and beyond. Here are five valuable lessons that we took away from the trip.
Alignment of public and private interests
The alignment of Germany's four major stakeholders – the federal government, 16 German states, private partners (employers, vocational schools and labor unions), and chambers of commerce – is admirable. Each has a critical role to play, and each has clear benefits from participating in the apprenticeship system. Here are some details about Germany's apprenticeship system:
One-third of apprentices' instruction takes place at vocational schools; two-thirds is held at the employer or training site.
Salaries for apprentices are generally set at one-third of the average starting salary for that position, with companies allowed to offer benefits above that, but only within reason.
The private sector contributes roughly 75% of the costs, while the public sector contributes 25%.
A national apprenticeship radar website, updated by employers quarterly, allows young people and their parents to explore work-based learning opportunities nearby.
This national standardization creates a uniform program that every employer understands and can use.
Lesson #1
The U.S. needs more alignment up and down the industrial training ladder, with nationally recognized certifications issued by an unbiased third party.
Paving paths to opportunity and success
The value to the German apprentice is clear. The four-pronged value proposition is relatively simple:
Earn while you learn.
Develop your skills.
Have a guaranteed job when you finish your apprenticeship.
Have a clear path to career advancement through additional schooling or certifications.
Apprenticeships include regular pay increases, a wide variety of technical and theoretical training, and nationally recognized skills standards. There's a clear investment by the company in the apprentice's future, which leads to long-term retention. And while the apprentice is guaranteed a position at their company for one full year after completing the apprenticeship, they are not required to stay with that company.
Lesson #2
The U.S. as a society needs to have more options for practical, hands-on learning at the high school level. The apprentices we spoke to (mostly 16-18 years old) loved the experience of making real things, interacting with advanced manufacturing technologies, and engaging in challenging and varied work every day. They all had tremendous pride in their work and would recommend that same path to their friends.
Investing in people
German employers see value in investing in their workers, regardless of how long that worker stays at the company. Because the employer has input in defining and developing the training content with the educational partners, the apprentice is essentially guaranteed to stay with the company upon graduation. We heard different numbers from employers, but essentially, they were investing 30,000-60,000 euros (approximately $31,500-$63,000) in salary and training for each apprentice during the course of their three years. Tellingly, not a single company we met with complained about the price of training apprentices – if anything, they bemoaned the fact that they couldn't recruit more young people to their companies. This clear return on investment for the employer in the apprenticeship system leads to its long-term sustainability and explains its longevity.
Lesson #3
Aligning all these partners and ensuring consensus between them is hard work. However, this work is absolutely crucial to the success of the system. The reduced turnover, pipeline of skilled employees, and lower recruiting costs that employers enjoy pay for the investment many times over.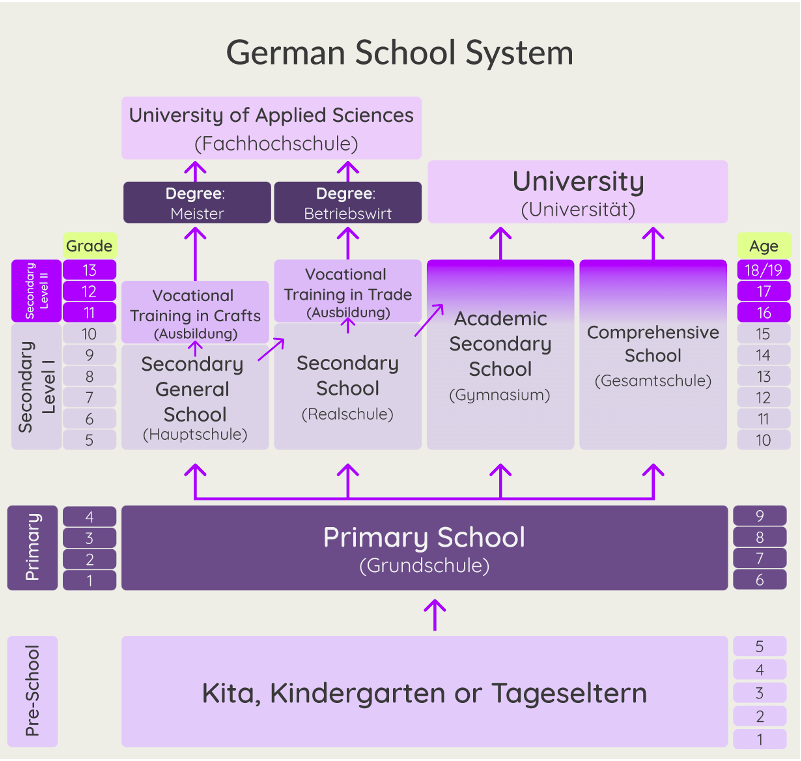 Early education
Schooling decisions in Germany are not happenstance, but are a thoughtful collaboration of parents, administrators and teachers – and are made multiple points in the child's educational journey. Internships start as early as eighth grade and are geared toward helping the student pick a career path.
Lesson #4
While many of us would recoil at the thought of making significant decisions about our child's future occupation in fourth grade, this tailoring of middle school and high school education to the individual student's skills, abilities and interests is a fascinating idea. The summer job flipping burgers or lifeguarding at the pool is not a thing in Germany; rather, the eighth and ninth grade internships are serious jobs meant to focus the student on selecting their career path.
Pedigreed apprenticeships
German apprenticeships have been around for hundreds of years, with the central legal codification coming in 1969.
Lesson #5
The U.S. should start today. German apprenticeships – and their overall vocational education training system – are simply part of German culture, with roughly 60% of professionals having this past training. It's just what you do as part of your schooling. The seamless integration of the four stakeholders (the German federal government, states, private partners and chambers of commerce) is helping drive Germany forward as a manufacturing powerhouse.
If we want the U.S. to get to that level of sophistication, we have to start working on it – today.

Blog originally appeared here.
Upcoming Events
Impact Dakota Blog