11, June 2020
A Partnership to Support a New Era of Smarter Food Safety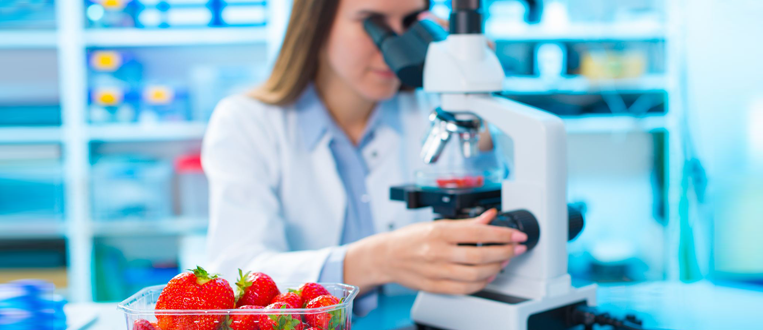 Credit: iStock/luchschen
We have all heard about recalls of many types of foods, from romaine lettuce and peanut butter to chicken and eggs. Food safety is one of the biggest issues affecting the U.S. agricultural and food industries today. The Centers for Disease Control and Prevention (CDC) estimates that each year roughly 1 in 6 Americans (or 48 million people) gets sick, 128,000 are hospitalized and 3,000 die of foodborne diseases. This is a significant public health burden and a threat to the economic well-being of the food system that is largely preventable.
To better address this national issue, the U.S. Food and Drug Administration (FDA) Food Safety Modernization Act (FSMA) was signed into law on Jan. 4, 2011. FSMA enables the FDA to now focus more of its efforts on practices and actions to prevent foodborne illness before they occur, rather than on "policing" food safety problems after they have already occurred. FSMA and its associated framework of requirements, which are applicable to both human and animal food, are designed to ensure that standardized actions are taken at all control points in the food supply chain in order to prevent contamination, and in cases of a discovered safety or illness issue.
The FDA has finalized seven major rules to implement FSMA. Collectively they constitute the Produce Safety Rule and include:
Preventive Controls Rules for Human and Animal Food

Produce Safety Rule

Foreign Supplier Verification Program (FSVP) Rule

Accredited Third-Party Certification

Sanitary Transportation Rule

Intentional Adulteration Rule

Complying with FSMA
It is well recognized that FSMA is transforming the nation's food ecosystem, and small to medium-sized manufacturers (SMMs) in the food industry are reporting that implementing FSMA isn't mainly a matter of dotting your i's and crossing your t's. Even companies that say they have established food safety plans and processes are finding compliance with the Preventive Controls Rules challenging. It seems that one of the biggest hurdles to FSMA implementation is basic awareness and understanding regarding what needs to be done to achieve conformance with the new regulations. In September 2019, to enhance the food manufacturing community's understanding of how to respond to FSMA, the FDA Office of Partnerships, Office of Regulatory Affairs (ORA) and the National Institute of Standards and Technology (NIST) Manufacturing Extension Partnership (MEP) signed a Memorandum of Understanding to collaborate and coordinate on the outreach and dissemination of safe food manufacturing practices as well as training for small and medium-sized food manufacturers. Using both the NIST MEP and FDA respective networks and alliances, it is envisioned that this collaboration can facilitate the implementation of new technology and prevention practices that will support a culture of food safety.
A New Era For Smarter Food Safety
In addition to FSMA, the FDA has launched an initiative entitled a New Era of Smarter Food Safety, which recognizes and encourages incorporation of new technologies and an accompanying new mindset on food safety prevention practices and procedures. The four pillars of the FDA's food safety initiative are:
Tech-Enabled Traceability and Foodborne Outbreak Response

Smarter Tools and Approaches for Prevention

Adapting to New Business Models and Retail Food Safety Modernization

Food Safety Culture
In future blogs, we will cover details about these four pillars of the Era of Smarter Food Safety initiatives, provide opportunities to seek stakeholder input and share ideas on the FDA's overall strategy for the specific initiatives. Stay tuned!
Blog originally appeared here.
Upcoming Events
Impact Dakota Blog