16, February 2017
Are you doing enough to stay ahead of your competition?
Bismarck Lean Enterprise Certification Program — Begins in March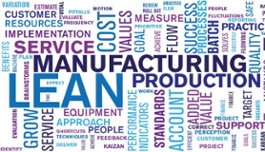 In North Dakota's extremely competitive business environment, organizations are realizing the need to fully utilize employees' knowledge and skills to gain the advantage over competing companies.
Impact Dakota is taking registrations for the next session of the Lean Enterprise Certification Program (LECP). The LECP is the only nationally recognized and certified body of knowledge for Lean Principles, and is applicable for manufacturers and non-manufacturers. Impact Dakota has trained thousands of participants in this program over the past 10 years, and was one of the first organizations to bring this training to the marketplace.
The LECP is a mix of classroom learning and hands-on activities. Attendees meet for one day every two weeks over a three-month period, and will learn about tools, techniques, and systems that enhance their abilities to contribute to your company's continuous improvement efforts.
Program participants will receive a Lean Knowledge Certificate, and, as a recommended option, prove their proficiencies by passing the Society of Manufacturing Engineers (SME) Bronze Level Certificate Examination (provided).
The next LECP session starts March 16 in Bismarck.
For more information or to register, please contact Brad Boyd at 701-354-0980 or bradb@impactdakota.com.
Upcoming Events
Impact Dakota Blog