2, August 2023
Building the Career Path for the New Generation of Rosie Riveters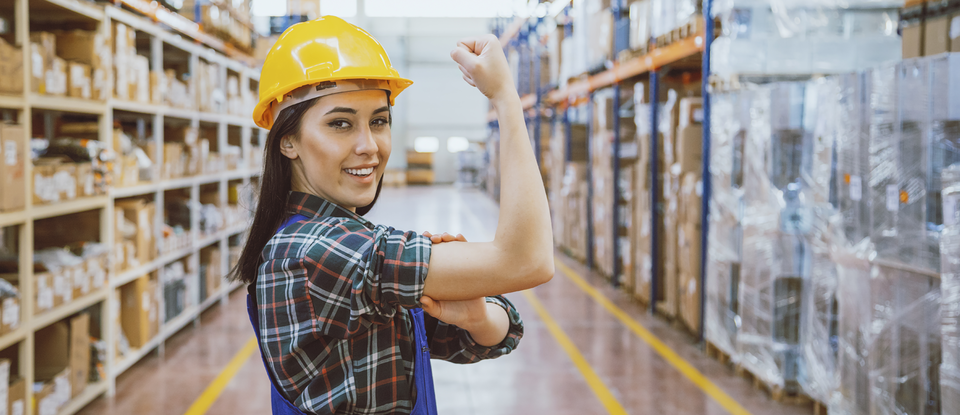 Credit: iStock/serts
By 2028, American manufacturers could be facing a shortage of 2.4 million workers – and because of this the country could be facing potentially nearly half a trillion dollars in lost gross domestic product. Yet, in spite of the growing sense of urgency to engage young workers to feed the talent pipeline, our manufacturing industry has not closed the workforce gap between men and women.
Women make up about 47% of the total workforce according to the U.S. Census Bureau, but they only make up about 30% of the 15.8 million people employed in manufacturing industries. Only one in four manufacturing leaders is a woman.
Fortunately, there's a new initiative to introduce young girls to opportunities in the manufacturing industry, including hands-on activities designed to build the science, technology, engineering, and math (STEM) skills and confidence they need for exploring the world of manufacturing.
Three Florida organizations – the Girl Scouts of Citrus Council, Rosie Riveters, and FloridaMakes, which is part of the MEP National Network – have joined forces to provide a fun space for young girls to imagine, create, and play while developing STEM skills. Manufacturing in a Box is the pilot in a series of programs that will build awareness and engagement for young girls who may never have heard of Rosie the Riveter to consider a career in manufacturing.
Hands-on participation with high-tech kits
Through guided Rosie Riveters kits, girls will explore careers in manufacturing by building things like a balloon-powered car and a slingshot rocket. These out-of-the-box, interactive lessons are designed to build participants' critical thinking and problem-solving abilities. This will boost the girls' overall confidence in the STEM skills needed to work in an increasingly high-tech and automation-driven manufacturing environment.
The program will launch with eight Girl Scout troops. Girls who successfully complete each kit will have the chance to earn Girl Scout badges to show how they've mastered each skill set applicable to different sectors of the manufacturing industry. Participants will earn a Rosie Riveters Explores Manufacturing Fun Patch, along with four Brownie badges (Automotive Manufacturing, Mechanical Engineering: Fling Flyer, Designing Robots, and STEM Career Exploration) for completing all the activities in the box.
"We are excited about this partnership because it will empower our troop volunteers to pursue more STEM badges with their girls," says Maryann Barry, Chief Executive Officer of the Girl Scouts of Citrus. "STEM badges are some of the least pursued by girls and we are hoping this program will begin to empower women to embrace the fulfilling, lucrative careers this industry can provide."
One of the biggest rewards for completing each kit is the chance to gain valuable, hands-on experience at solving manufacturing challenges. "The manufacturing worker of the future will need to have the right skills to operate in a highly automated environment," says Zoraida Velasco, Executive Vice President at FloridaMakes. "This collaboration helps the manufacturing industry by inspiring, cultivating the talent, and supporting the overall success of the next generation of manufacturing workers."
Exposing more girls to the world of manufacturing
While the Rosie Riveters kits are a great way to introduce young girls to manufacturing, there's no substitute for seeing a manufacturing facility in person. This is why the program is looking for local manufacturers to offer plant tours. It's also looking for women in the manufacturing workforce who can share their success stories with the girls. These are just a couple of ways that companies and nonprofits can partner to address manufacturing workforce challenges while providing STEM opportunities for girls.
Additionally, the pilot program will be showcased as a best practice at the Girl Scouts of the USA National Convention in Orlando, Florida, this summer. More than 10,000 participants from across the U.S. and abroad can learn how to duplicate this program in their communities.
Closing the gender gap in manufacturing
Most importantly, this program is designed to put more young women on the path to a potentially rewarding career in manufacturing. And to show them that this industry is not just a man's world.
"Rosie Riveters' goal is to close the gender gap in STEM," says Brittany Greer, Executive Director of Rosie Riveters. "Our programs work toward achieving gender equity in the field by starting early, engaging repeatedly, and building confidence via productive struggle. This pilot does just that, with a focus on manufacturing."
Unique partnerships such as the Rosie Riveters program are a great way to build more pathways for young people to explore careers in STEM and manufacturing. Contact your local MEP Center to learn about additional opportunities that encourage young people's interest in manufacturing and STEM careers.
This blog originally appeared here.
Upcoming Events
Impact Dakota Blog