6, October 2023
Building the Future Workforce on Manufacturing Day, Oct. 6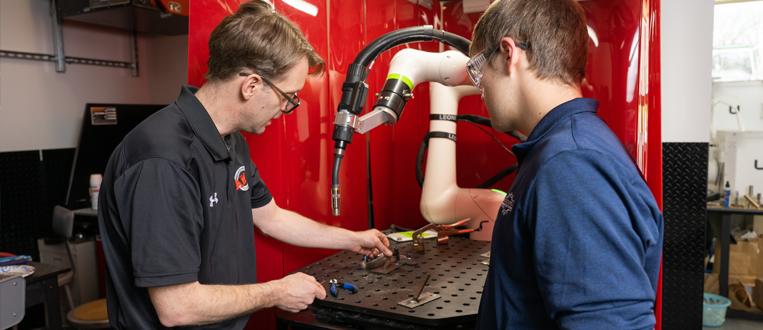 Credit: NIST MEP

By: Jennifer Rosa
Young adults have many choices when it comes to their future careers. Some have a clear career path in mind, whether it's pursuing a college degree, enlisting in the military, or entering the workforce right away. But for others, the road ahead is less certain, and they may not yet know where their interests and passions lie. Of course, this is perfectly normal, and it's okay not to have all the answers. Young adults have time for exploration, self-discovery and personal growth. Adults can help them by providing tools and opportunities for them to explore options.
That's where Manufacturing Day (MFG Day) fits in. This nationwide annual event being held on Friday, Oct. 6, this year offers unique opportunities for the public to gain insights into the world of modern manufacturing. Manufacturing has come a long way from the dark, dirty factories of the past. Today, it's a dynamic industry that blends cutting-edge technology, innovation and sustainability. MFG Day showcases career opportunities and exciting advancements in the field. From 3D printing to robotics, participants get firsthand exposure to the high-tech, automated processes that drive modern manufacturing.
What is MFG Day?
MFG Day showcases the various career opportunities in the manufacturing industry. Organizations will show the public what manufacturing really looks like through more than 3,000 events in all 50 states and Puerto Rico. The MEP National NetworkTM participates in MFG Day by hosting, coordinating and promoting events.
Find a MEP National Network MFG Day event near you to get up close and personal with the world of manufacturing. You can also visit the Creators Wanted website for more events. More than 325,000 students, parents and community members are expected to attend MFG Day events this year – you can be one of them! Manufacturing is critical to the U.S. economy and offers a wide range of jobs – from engineering and design to production and management. It's an industry that values innovation, problem-solving and teamwork. There's something for everyone!
How MFG Day helps
Manufacturers host a wide range of MFG Day events. Participate in MFG Day for experiences such as:
Exploration: Tour manufacturing facilities, see the processes in action, and interact with professionals in the field. This hands-on experience can be eye-opening and help you gain a better understanding of the industry.
Networking: Connect with manufacturing professionals, educators and peers who share your interests. Building these connections can open doors to internships, apprenticeships and mentorships.
See the skills needed: Many manufacturing companies offer demonstrations, giving attendees the chance to discover different aspects of the industry and better understand the skills needed for different manufacturing jobs.
Career insights: Engaging with industry experts can help you gain insights into various manufacturing careers, from computer numerical control (CNC) machining to industrial engineering. These insights can help you make more informed decisions about your future. How many people get an opportunity to experience a potential workplace before applying for a job?
Inspiration: Manufacturers make things that improve our lives. Seeing the impact of manufacturing on everyday life can inspire people to pursue careers they may not have known about or considered before. Whether it's using cutting-edge technologies or working with machinery, manufacturing offers lots of possibilities.
NIST MEP created an infographic with details about various manufacturing careers, including typical job responsibilities, education or training needed, and average salaries for different roles. Attending an MFG Day event complements this information by bringing careers to life and providing a firsthand understanding of the industry.
Other ways to learn about manufacturing careers
MFG Day isn't the only day of the year for learning about manufacturing careers. Here are some additional opportunities:
Internships and apprenticeships: Look for internships or apprenticeship programs offered by manufacturing companies. These opportunities provide hands-on experience and a chance to see what the daily work is like. Many manufacturing companies collaborate with local community colleges or universities to offer these programs.
Attend manufacturing events: Attend manufacturing trade shows, job fairs and industry-specific events in your area. These events often feature exhibits, workshops and networking opportunities. Many states recognize Manufacturing Month throughout October, so it's a good time to look for events.
Career counseling: Talk to career or guidance counselors who can provide information on manufacturing careers and help you make informed decisions.
Online resources: Use online resources, such as websites, forums and social media platforms to connect with professionals working in the manufacturing field. You can also follow industry news and trends through websites and blogs that are dedicated to manufacturing.
MFG Day can help you find your path
MFG Day offers a valuable opportunity to explore careers in manufacturing. Seeing things in person helps to clear up misconceptions and out-of-date stereotypes. It also opens doors to a world of innovation, technology and exciting careers.
So, as young adults stand at the crossroads of their future, remind them that it's okay to be uncertain of their path. With the right tools, insights and a spirit of curiosity, they can learn about options and find something they love. The possibilities are boundless, and the future is theirs to shape. They may be surprised to find a fulfilling and rewarding career in manufacturing.
Blog originally posted here.
Upcoming Events
Impact Dakota Blog