24, April 2015
Exporting: Opportunity for North Dakota Manufacturers to Increase Sales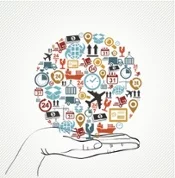 The U.S. can feel like a rather big place—50 states, combining virtually every kind of climate and consumer available—but we're not as big as we like to make ourselves out to be. In total, the U.S. only accounts for 5 percent of the world's total potential customers. 95 percent of the world's consumers, who are potentially looking for your products and parts, live outside the U.S. If you aren't exporting, you're missing out on the opportunity to broaden your customer base and increase sales.
Additionally, international markets do not always follow the same economic pattern as U.S. markets. If the U.S. economy is experiencing a downfall, there's a chance another market overseas won't be impacted, giving your business some buffer from taking a serious hit.
Why Aren't More Manufacturers Exporting?
Less than 1 percent of U.S. manufacturers are currently exporting their products overseas…but why? When we're speaking with manufacturers around the state, we often hear two common misconceptions about exporting:
It's a luxury available only to large businesses.
It's too difficult to start exporting.
In reality, approximately 97 percent of all U.S. exporters are made up of small businesses according to the U.S. Small Business Association. And while it can be easy to focus all of your energy on the familiar domestic market you understand, tapping into otherwise unknown international markets is easier than you think.
A National Impact
U.S. manufacturers have the ability to greatly increase their clientele and their overall sales by expanding into the global market and reaching the other 95 percent of the consumers in the world. U.S. manufacturing exporting companies not only grow their own personal sales, but they also help to increase the presence of the United States in the worldwide market.
This, in turn, will help grow the U.S. economy and keep the U.S. dollar strong. As U.S. exports continue to grow and more U.S. manufacturing exporting companies are created, the U.S. can expect to see a surge in new manufacturing jobs across the country to meet this demand. This will also help to stabilize and improve the domestic economy by creating job growth and increasing revenue!
ExporTech™ Initiative

If you believe your product has international potential but don't know where to start, ExporTech™ is a program that can help. This program assists North Dakota manufacturing C level executives, and those responsible for international sales, enter the foreign markets.
The ExporTech™ program consists of 3 full-day training sessions, held about a month apart. In those sessions, you will gain an understanding of how exports can be a major growth driver for your company, identify the markets which hold the greatest potential, evaluate and address the challenges to exporting, and present your final plan to a panel of experts for additional input and guidance.
Don't miss out on the opportunity to increase your customers and sales. If you aren't exporting, consider making it a priority in the near-future!
Click here for more information about ExporTech™.
Upcoming Events
Impact Dakota Blog