16, October 2023
Find Unique Workforce Solutions for Your Firm: A New Interactive Map Showcases MEP National Network Workforce Programs, Services and Trainings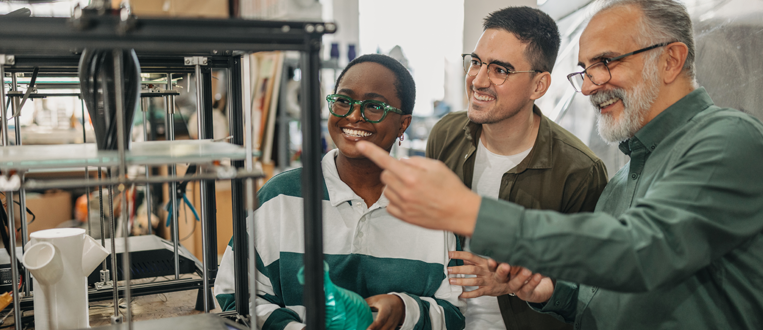 Credit: iStock/supersizer

By: Katie Rapp
How can small firms without in-house expertise help their staff learn new skills? It's not easy when resources are tight and staff are pulled in a million directions. Manufacturers face worker shortages, skills gaps and other workforce challenges that limit their productivity and growth.
MEP Centers around the country help manufacturers fill those gaps and find unique workforce solutions based on each firm's needs. A new interactive map, MEP National Network Workforce Programs, Services and Trainings, showcases these efforts across the country. This map complements a recently published list detailing ways that Centers are helping manufacturers overcome workforce challenges. These tools provide information about workforce offerings at MEP Centers in each state and Puerto Rico.
MEP experts listen carefully to each manufacturing client to assess needs, and they tailor their services to each company's situation. Here are a few examples of workforce success stories from across the MEP National Network™.
Cutting waste, getting lean
49th State Brewing faced challenges many small manufacturers encounter. The Alaskan company, which specializes in craft beer and Bavarian food, expanded to three locations during the past decade. That growth signaled success, but it didn't mean process efficiency.
Like many firms across the country, 49th State Brewing turned to its local MEP Center for help. The Alaska MEP, part of the MEP National Network, connected 49th State Brewing with a third-party contractor for Lean Six Sigma Green Belt training and certification.
The brewery's staff learned to improve processes and cut waste during the 40-hour training. They came away with very practical solutions to implement right away that saved both time and money.
"The Alaska MEP continues to offer training dedicated to helping 49th State Brewing Co. grow and advance. I am grateful for my ability to participate in their latest Lean Green Belt certification and look forward to continuing to work with them in the future."
— Andy King, Operations Manager, 49th State Brewing
Providing a clear path to cybersecurity compliance
Elinor Coatings, LLC, a family-owned business, specializes in high-quality chromate-free coating products used in military and commercial applications. The Department of Defense (DOD), along with aviation, space and defense original equipment manufacturers (OEMs) showed interest in its products. These customers demand that their suppliers comply with strict cybersecurity requirements. Elinor Coatings spent a year making frustratingly little progress toward understanding Cybersecurity Maturity Model Certification (CMMC) and other requirements.
Impact Dakota, the North Dakota MEP Center, came to the rescue! Elinor Coatings' Chief Technical Officer and co-founder Dante Battocchi attended Impact Dakota's cybersecurity workshop where he learned about CMMC, NIST Special Publication (SP) 800-171, and more.
The workshop was so helpful that the firm reached out to Impact Dakota for more information. Impact Dakota completed a no-cost cybersecurity assessment and presented the results in an easy-to-understand format within a few weeks.
"Impact Dakota helped us organize and improve our IT practices and basic protocols to align with CMMC and navigate quite a complicated initial process. Even with a solid IT team in place, many organizations will struggle to adopt some of the more complicated requirements. I can't imagine how long it would have taken us to work through the documentation on our own, and we are grateful for the assistance Jodie and Impact Dakota provided. The time, money and frustration we saved working with Impact Dakota has given us the leg up we need as a small business to ensure we are doing everything we can to protect ourselves and our customers."
— Adrian Dawson-Becker, Government Program Manager, Elinor Coatings
With a clear path forward, Elinor Coatings' team conducted a full gap assessment in accordance with NIST SP 800-171 requirements. It developed the required system security plan, incident response plan and other training material needed to reduce risks and build resilience. These team efforts resulted in Elinor confidently reporting its cybersecurity compliance to OEM and DOD customers.
Teaching English and training technicians
Voyant Beauty produces and packages personal care products for Bath and Body Works on 13 production lines. With 225 employees on two shifts, the firm maintains strong connections with local non-English speaking communities to fill its positions. In the past, the communication gap sometimes resulted in downtime and increased waste on the production line. The firm also faced a shortage of qualified maintenance technicians to service and maintain production equipment.
Voyant Beauty partnered with Columbus State Community College (part of Ohio MEP) to solve both workforce problems.
"Through our partnership with Ohio MEP and Columbus State Community College, Voyant Beauty New Albany has been able to provide on-site English as a second language and electrical training. In addition, MEP assisted in outlining a robust, multi-year training program for our maintenance technicians and with improving our data collection abilities. In addition to the achievements listed above, our partnership with MEP has helped the New Albany site to be recognized as the 'Most Improved Site of the Year' for 2022 and 'Supplier of the Year' for 2022 by our customer. I cannot emphasize strongly enough how invaluable our partnership with MEP has been in our success and how easy MEP has been to work with on building solutions to our challenges. It is obvious that MEP cares deeply about their mission and the community and is fully invested in our success."
— Tim Allen, Employee and Community Relations Manager, Voyant Beauty
Solving local challenges and meeting national needs
MEP Centers focus their workforce service offerings on each manufacturer's unique challenges. They understand the local manufacturing ecosystem and work with local partners. MEP Centers can help companies solve complex workforce challenges, enabling them to grow their business and expand into new markets. Employees find greater satisfaction in jobs that offer training opportunities leading to better pay and career satisfaction.
Working locally to strengthen U.S. manufacturers has big impacts. Each MEP success story at the local level contributes to stronger, more resilient supply chains. Strengthening U.S. manufacturing and supply chains enhances U.S. national security. It's all connected, and it starts with each individual manufacturer that reaches out for information from a local MEP Center.
Contact your local MEP Center
The new interactive map enables manufacturers and the public to learn more about what each MEP Center does and to showcase these workforce activities nationally. This guide is not exhaustive, and manufacturers should contact their local MEP Center for more detailed information about workforce-related offerings and for personalized assistance.
Blog originally appeared here.
Upcoming Events
Impact Dakota Blog