8, February 2018
Fueling Growth and Advancing U.S. Manufacturing Through Tangible Results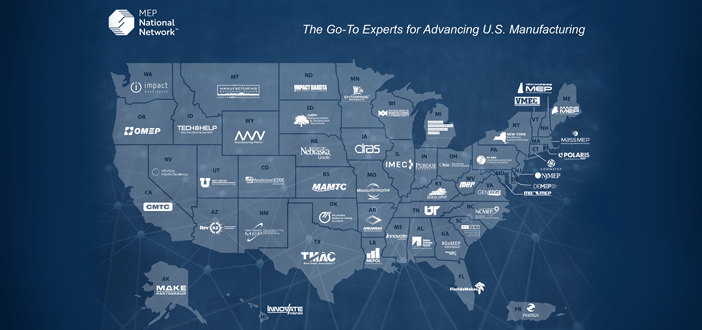 By: Carroll Thomas
As the former owner of a small manufacturing company, I know how important the manufacturing industry is to the local and national economy. Manufacturing is the backbone of the United States. It created strong communities and brought us together as a nation and helped the U.S. become an economic powerhouse. As the director of the incredible organization we call MEP, I want us to have the strongest manufacturing base on the planet.
I'm of the position that there exists a manufacturing champion during this important time for the nation's manufacturers and the industry as a whole: the MEP National Network™. Maybe I'm biased by the fact that I'm surrounded by folks who are passionate, I mean crazy passionate, about manufacturing. The MEP National Network is a unique public-private partnership that delivers comprehensive, proven solutions to U.S. manufacturers, fueling growth and advancing U.S. manufacturing.
Significant Impacts Reported by Manufacturing Clients
I am proud to announce the MEP National Network impact results for 2017 . These results are truly impressive. Last year, this streamlined program with 51 MEP Centers located in all 50 states and Puerto Rico, interacted directly or through their partners with over 26,000 manufacturers. Based on results from a third-party survey, clients from across the country reported that the assistance they received helped to create and retain more than 100,000 manufacturing jobs in 2017 alone. Clients also retained more than $12 billion in sales and realized more than $1.7 billion in cost savings.

These impacts translate to $27.20 in new sales growth and $27.30 in new client investment for every dollar of federal investment, and for every $1,291 of federal investment, MEP created or retained one manufacturing job.
More than 1,300 trusted advisors and experts at over 400 MEP service locations in the National Network were able to use their knowledge of and experience in all aspects of manufacturing business to focus on making U.S. manufacturers successful!
We even managed to raise our already high NET Promoter Score® (which measures customer experiences) to 83, well above industry benchmarks and indicates a strong likelihood of recommending the MEP Center to other companies and colleagues.
National Reach with Local Resources
If you work in manufacturing or know someone who does, let them know about the resource they have in their own backyard — the MEP National Network. Our Centers and their partners understand the challenges and opportunities that small and medium-sized manufacturers face and we are committed to equipping these companies with the tools and training they need to succeed.
What's happening in manufacturing right now is fantastic. The fact that we're part of this special time when manufacturing is reinventing itself and that there is such an entity as the MEP National Network is even more exciting. It's a great time for America to add to our manufacturing base and to grow the best manufacturers in the world!
This article originally appeared https://www.nist.gov/blogs/manufacturing-innovation-blog/fueling-growth-and-advancing-us-manufacturing-through-tangible.
Upcoming Events
Impact Dakota Blog