22, May 2015
How 5S Can Improve Your Production Floor & Manufacturing Process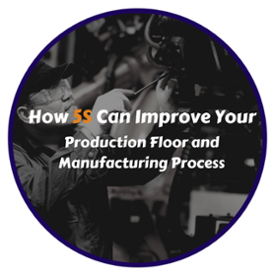 A production floor can be loud, busy, and oftentimes messy, with leftover materials and debris piling up everywhere. This disorganization can lead to inefficiencies, slower turnaround times, and higher production costs.
Manufacturers Can Benefit from 5S
If you are a North Dakota manufacturer, you business can benefit from 5S, no matter how big or small! 5S is a simple and universal methodology that is used by a wide array of large corporations, but can easily be applied to your business. This is a Lean tool and a fundamental aspect of nearly all manufacturing improvements, ranging from just-in-time manufacturing to total quality manufacturing (TQM).
In essence, 5S is a workplace organization method designed to best organize a work space that encourages more efficiency and expertise. Like all great ideas, it benefits most from its simplicity: by identifying and storing items used and maintaining the newly established order.
This program was originally developed in Japan and used by Toyota, along with a variety of other companies to organize their factory floors. Translated and adapted into English, these five words are geared to create a process that will help your business' disorganized production floor transform into a structure that eliminates waste and can be continually maintained and upgraded constantly with minimum effort.
The Five Concepts of 5S:
Sort: Remove all items not needed for current production.
Set in order: Arrange necessary items and label them so they are easy to identify and use.
Shine: Keep everything clean and in order. Inspect tools and see if they need repair.
Standardize: Sort again and schedule any tools and equipment for cleaning
Sustain: Create an infrastructure around communicating, auditing, and checklists to maintain the entire process.
The Three-Step Process to Begin:
The best way to implement 5S into your business is through a three-step process. First, it's necessary to establish a cross-functional team for the program. Second, use your team to tour all areas associated with the manufacturing process to get an idea of the work necessary. Third and finally, have the team brainstorm various potential plans that will best organize and improve waste on the floor.
Additionally, your team can use other Lean tools such as Value Stream Mapping (VSM), which is designed to develop a visual of the present state of the manufacturing floor. This concept can show the team how the process was done in the past and can provide a great visual construct of the new procedures and floor layout.
Adopting 5S for your Organization
At its core, the mantra of 5S is simple: "A place for everything and everything in its place." Once implemented, 5S reduces waste of human time and energy; reduces waste of excess inventory; and reduces the number of defective products. It might take some time and energy to organize and implement, but the benefits are vast.
For more information about Impact Dakota's Lean services, click here.
Upcoming Events
Impact Dakota Blog