3, August 2022
Infographic: Reshoring and the Pandemic – Bringing Manufacturing Back to America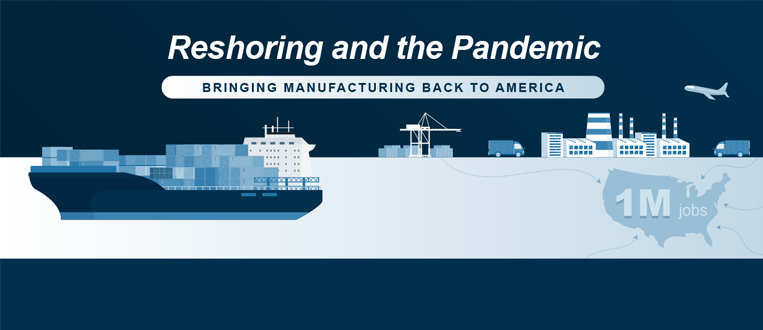 By: Katie Rapp
A new infographic, Reshoring and the Pandemic: Bringing Manufacturing Back to America, delves into various factors related to reshoring supply chains and shines a light on how the MEP National Network™ supports these efforts.
Even before the pandemic, some manufacturers were thinking seriously about bringing manufacturing back to the U.S., as a million jobs were reshored in the past decade. Product quality, freight costs and supply chain risks were all considerations before the pandemic. Proximity to customers and markets, government incentives and availability of skilled workers also all played a role in manufacturers' decisions to move back to the U.S. The infographic will help you learn about various considerations behind this trend. You'll see the top countries manufacturing is returning from and the top industries coming back to the U.S.
Of course, the pandemic brought much wider attention to the importance of reshoring efforts. With 98% of global supply chains affected, our reliance on foreign sources for personal protective equipment and medical supplies affected our country's pandemic response. The MEP National Network, with MEP Centers in all 50 states and Puerto Rico, helped companies step up domestic production to meet our critical needs.
The recognition of supply chain risk for medical gear and other items made abroad changed the focus for many manufacturers from cost-competitive to risk-competitive. This new mindset has resulted in widespread interest in reshoring, and many manufacturers have recently brought at least a portion of their manufacturing operations back to the U.S. MEP Centers continue helping companies develop national and local supply chains, which is vital to reshoring efforts.
The MEP National Network is also facilitating reshoring efforts through the MEP Supplier Scouting service. This assistance identifies domestic suppliers, enabling companies to reshore their manufacturing operations. MEP Supplier Scouting supports President Biden's Executive Orders 14005 and 14017 – to focus on manufacturing in America and establishing domestic suppliers.
Download the Infographic
Download the infographic, Reshoring and the Pandemic: Bringing Manufacturing Back to America, to learn more about how the MEP National Network helps manufacturers rethink their supply chains and supports reshoring efforts across the country.
Blog originally appeared here.
Upcoming Events
Impact Dakota Blog