16, December 2015
Job Instruction Project – Raven Industries – Sioux Falls, SD
South Dakota Manufacturing and Technology Solutions and Impact Dakota recently partnered on a Job Instruction Project with Raven Industries in Sioux Falls, SD.
Raven Industries' technology allows the world to safely and successfully grow more food, produce more energy, and protect the environment. Team members from three of Raven's divisions -- Engineered Films, Applied Technologies and Aerostar -- were involved in the project.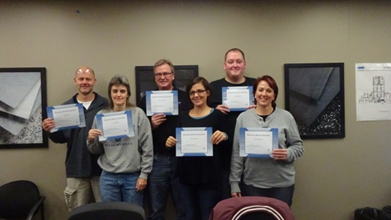 EFD (Day) Marshall Nelson, Gary Anderson, Andrew Gibson, Lori Tschetter, Stacie Schroder, Wendy Kuhnert, Brian Otten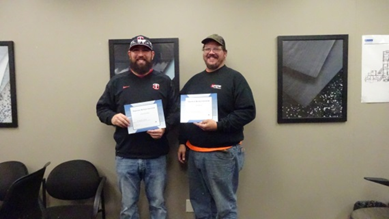 EFD (Night) Steve Barret, Dylan Montileaux
The first two weeks of the project involved ten hours of classroom training for participants. Each participant worked one-on-one with the instructor to perfect their JI skills. Participants also worked closely with management and the implementation team to draft long term plans for implementation and sustainment.
As the project progresses, Impact Dakota, Raven Industries, and South Dakota Manufacturing and Technology Solutions will continue working together to ensure successful implementation of the project.
Job instruction can reduce the time spent learning any new job by up to 75% or more. By simplifying the learning curve, problems and costs associated with safety, quality, and on-time delivery can be decreased significantly when training new employees.
Congratulations to the Raven Class of November 2015.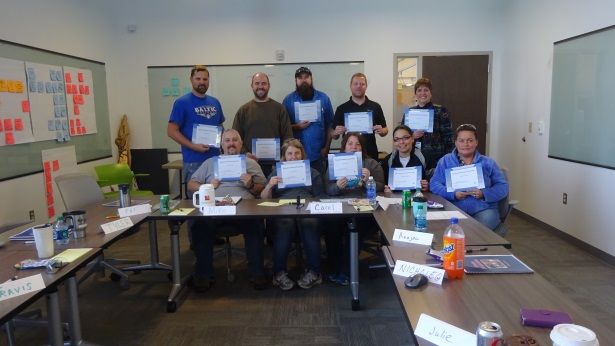 ATD and AD Linda Larson, Annjeanel Marshall, Julie Larson, Nichole DeVries, Carol Bunkers, Tyler Pageler, Travis Zimmerman, Mike Kleinhans, Andy Arneson, Patrick Houtman
Upcoming Events
Impact Dakota Blog