28, March 2018
Lean Process & Lean Building Blocks
by Reza Maleki
Want to improve your processes with little or no investment, use a lean approach which simply means creating more value through identification and elimination of wastes and hence more effective use of resources. So the question becomes how to start and sustain our lean journey with the goal of improving our processes.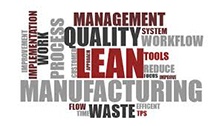 The first step is to learn what waste means and what different wastes are there. The next step is, that as a team the members observe and document what and how the different steps in processes are done. Try to capture both physical as well as information flows between the different steps. Trust me, if you come this far, there is a good chance you will be able to identify a number of wastes, some of which can easily be removed.
What can help the team to further their abilities to improve processes is by providing learning opportunities about tools and techniques that can be used for better understanding of root causes of wastes and eliminating and/or reducing their negative impacts on processes. The lean building blocks includes a number such tools.
Speaking of tools, they are necessary but not sufficient to improve and sustain your efforts in improving processes. Lean is a thinking culture that utilizes the knowledge of all employees. Through their active participation they can help address the ever increasing challenges of work environment helping to continuously improve the processes that are needed in support of your business.
Topics: Lean Principles, Process Improvement
Upcoming Events
Impact Dakota Blog