4, October 2017
Making Manufacturing Day More Than Just a "Hallmark Holiday"
by Micki Vandeloo, GPC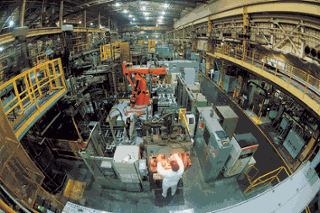 I spoke at a manufacturing conference in St. Louis this week, and thoroughly enjoyed the keynote speaker, Jennifer McNelly, President of 180Skills. 180Skills provides online career and technical education that fills the manufacturing skills gap (you should check them out for your workforce development needs!).
Jennifer has an extremely impressive resume which includes extensive experience with federal programs addressing the workforce skills shortage. She is also the person behind Manufacturing Day (#MfgDay17), and spoke proudly of this event, affectionately designating it a "Hallmark Holiday."
Later in the day, as I was listening to a seminar on Adecco's YES! Program, which helps place Kentucky high school students in manufacturing jobs (another great resource if you are a KY manufacturer!). My mind wandered a bit, and I thought, "Why should Manufacturing Day be just one day like any other Hallmark holiday?". Why can't Manufacturing Day take place all year long?
In my opinion, Manufacturing Day is more than just a time-constrained series of events. It is a celebration of manufacturing careers. It is a chance for manufacturers to open their doors to the world and show off their equipment and employees. It is a chance to dispel the perception of manufacturing as a dirty, dangerous career choice. It's an opportunity for companies to attract a future workforce.
So, in the spirit of Manufacturing Day, here are some options for making the Day last all year:
Host regular plant tours for students, parents, and teachers
Have your employees act as ambassadors for your company by deploying them to speak in school classrooms and for student organizations, such as the Girl Scouts.
Have a "friends and family" day at your manufacturing facility where each employee invites his family and a friend's family to tour the plant and enjoy a BBQ dinner catered in or prepared by company management.
Create t-shirts for your employees promoting your company as a great place to work!
Challenge each employee to invite one community, church or school group to your facility for a plant tour.
Create a cool video showing off your facility and employees and post it on your website and regularly on social media.
Celebrate your employees by holding monthly get-togethers, product drawings, meals, and events (the happier your employees are, the more they will promote you to their friends, your kids, and your friends' kids).
Manufacturing Day is an important opportunity to increase the manufacturing workforce and narrow the skills gap that haunts the industry. It deserves more than one day, week or month of effort. Celebrate Manufacturing Day all year long! Comment if you have any other great ideas for keeping the party going or if you already do any of the above!
Upcoming Events
Impact Dakota Blog