28, September 2020
Manufacturing Day – Its Genesis and Evolution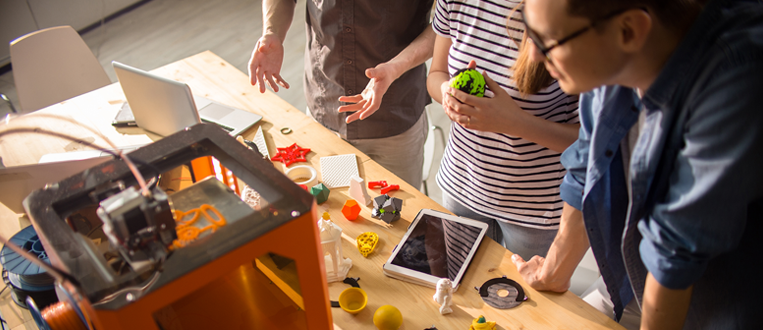 Credit: iStock/SeventyFour

By: Dileep Thatte
Manufacturing Day (MFG Day) has become a nationwide phenomenon. MFG Day is held annually on the first Friday in October. Many events continue throughout the entire month. The purpose of MFG Day is to show the reality of modern manufacturing careers by encouraging thousands of companies and educational institutions around the nation to open their doors to students, parents, teachers and community leaders. Each year thousands of manufacturers open their doors to give a glimpse at what today's manufacturing really looks like and inspire the next generation of skilled workers.
Do you ever wonder how and when it all started?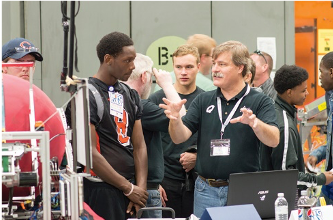 It was a crisp fall day in 2011 in Rockford, Illinois, the then location of the Fabricators and Manufacturers' Association (FMA) building. I was visiting Ed Youdell, President & CEO of FMA after Ed had recently taken over the leadership of FMA. I was there to share with him how NIST MEP is focused on helping U.S. manufacturers incorporate innovation, new technologies, productivity and quality improvement techniques and develop their workforce. In his interview with Manufacturing Talk Radio Ed stated:
"The idea came to me out of a conversation with Dileep Thatte of NIST MEP that we should have a special day when we should get FMA members involved with NIST MEP. But then we thought that this platform would be much broader than just for FMA members. So, we went on a broader scale and created Manufacturing Day.
The idea was to allow the manufacturers to open their doors in any way they see fit to invite the community, their schools, their educators, the legislators, and others, so that they see what is modern manufacturing and the value of manufacturing for the community."
This was a new concept and had to be tested. So, we decided to conduct a pilot in the Midwest. To allow enough time for outreach and planning, we planned the first Manufacturing Day on the first Friday of October 2012.
FMA would approach their members in the area and NIST MEP would approach MEP Centers in the Midwest. By opening their doors to the communities, the manufacturers would demonstrate to the general public, especially parents and youngsters, that modern manufacturing is different than the traditional image of manufacturing being a labor-intensive activity conducted in a rather unfriendly environment. Modern manufacturing involves computers, computer numerical control (CNC) Machines, robotics, and other "cool" tools! It's about creativity, innovation, teamwork and technical skills.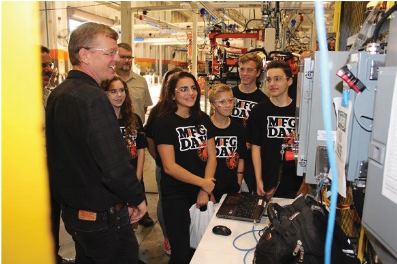 Manufacturing jobs are well paying jobs and require STEM (Science, Technology, Engineering and Math) skills. There is a significant shortage of skilled workers in the U.S. and the gap is expected to widen even more unless more people, such as millennials, start entering the manufacturing workforce. This workforce gap must be addressed by minimizing the "perception gap" about modern manufacturing and what it entails.
With participation from a few MEP Centers and local members of FMA, we had a successful first year featuring approximately 240 events and a great deal of enthusiasm among the people who participated. The response from the high school students, teachers, parents and others in the community was very encouraging. The concept caught momentum and by the third year there were thousands of events across the country!
Manufacturing is a critical element of the backbone of our economy. Most of the innovation in technology and products happens on the factory floor. Without production, innovation slows down. This is becoming even more obvious during the current public health situation. There is a move towards re-shoring production of critical components, especially in the defense and healthcare sectors in the interest of national security.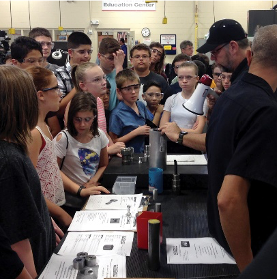 In 2016, the National Association of Manufacturers (NAM), an organization with membership in excess of 14,000 manufacturers, began leading the Manufacturing Day initiative. NAM, through their workforce development and education partner, The Manufacturing Institute, has done a magnificent job of supporting this initiative. In 2019, more than 325,000 students, teachers, and parents participated in MFG Day which consisted of more than 3,000 events held across all 50 states and Puerto Rico.
A special day for manufacturing has now become a movement. It provides a clear understanding of modern manufacturing and helps it win the the hearts and minds of educators that it has always deserved.
This year MFG Day is on October 2nd. In many areas, communities are celebrating Manufacturing Week and in some Manufacturing Month! NIST MEP and the MEP National NetworkTM are dedicated to assisting manufacturers across the nation and we continue to support MFG Day with our enthusiastic participation. Learn more about MFG Day by visiting the NIST MEP website or the official MFG Day website.
Blog originally appeared here.
Upcoming Events
Impact Dakota Blog