7, October 2016
Recognizing the Manufacturing Heroes on Manufacturing Day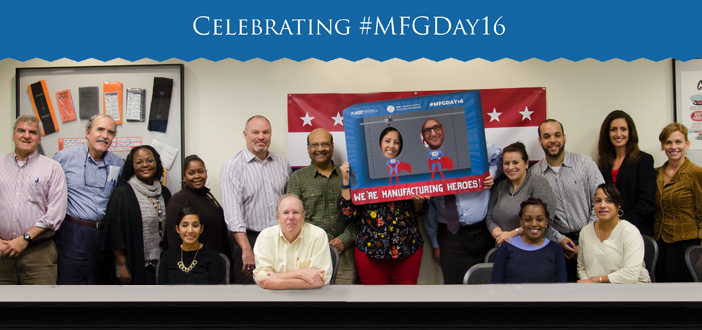 Recognizing the Manufacturing Heroes on Manufacturing Day
By Zara Brunner on · Manufacturing Day
Happy Manufacturing Day, from part of our team (pictured above at NIST MEP in Gaithersburg, Maryland) to all of yours across the country!
Countless organizations like MEP Centers and their community partners have been planning this day for months – if not the entire year. Their collective efforts have produced close to 3,000 events for hundreds of thousands of people to see what's inside manufacturing facilities during this fifth annual celebration. Recognizing the contributions manufacturing offers the Nation, the President has proclaimed today National Manufacturing Day.
It's important to remember why we do this.
Manufacturing Drives Our Economy, Offers Diverse Careers
Manufacturing is crucial to our nation's economic success. Taken alone, it would be the ninth largest economy in the world and supports 18.5 million jobs representing a huge variety of careers.
On Manufacturing Day, people who aren't that familiar with the industry get the opportunity to see what manufacturing really looks like. For others, it's a chance to celebrate the industry and its workers that provide the foundation of our economy and way of life. Through public tours, more people are able to discover what's happening in their own back yards — the variety of products being made and the jobs involved in making them. From hats, snowboards and guitars, to planes and even 3D printed vehicles!
Manufacturing Day ultimately exists to address a national issue: filling the 2 million vacancies projected by 2025. By raising awareness, we will build the pipeline of the next generation of makers and manufacturers.


As one of the national co-producers for MFG Day, we are thrilled to see what's happening across the country for what has turned out to be a true grassroots effort. We hope you get a chance to participate in some way. Not sure where to start? You can find an event in your areaby visiting the official MFG Day website. And if you search #MFGDay16 on Twitter, you'll find thousands of stories, videos, and images to explore today and throughout the entire month of October, as many regions and states have taken to recognize it as Manufacturing Month.
Thanks to all the manufacturing heroes who make every day Manufacturing Day!
About Author

Zara Brunner
Zara Brunner is part of MEP's Communications Team and handles Success Stories, MFG DAY, branding, and various marcom initiatives. She's been involved in marketing, operations, and business development in corporate, legal and government sectors for more than 15 years.
Upcoming Events
Impact Dakota Blog