23, December 2019
Stocking Stuffer Surprises That Are Made in U.S.A.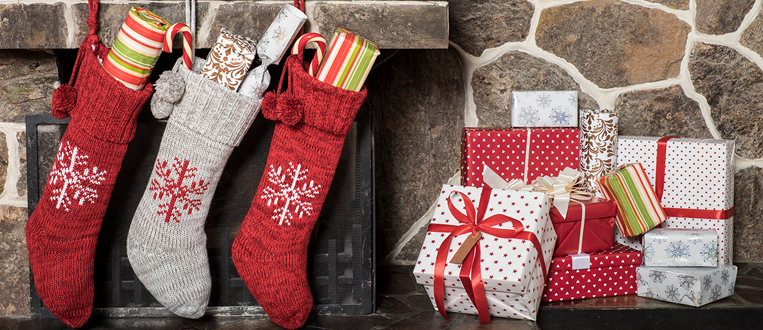 By: Tom Williams
Big holiday surprises do come in small packages, like quality gifts that fit easily into a stocking. Forget those generic ties for Dad or socks for Mom; well-crafted gifts created by American manufacturers can bring a smile to even the "Grinchiest" family member or friend.
But it takes more than manufacturing know-how to ensure these quality products catch the eye of discerning gift-givers. Behind the scenes, the MEP National Network™ strengthens and empowers U.S. manufacturers with the resources they need to improve efficiency and market their businesses to all the "Santas" seeking the perfect stocking stuffer.
Here are just a few American manufacturers who create stocking-size holiday delights.
Seasonal Brewed Sips: Klatch Coffee
For 25 years, California-based Klatch Coffee has delighted caffeine-seekers around the world with award-winning brews. From traditional espresso to custom-roasted blends, the company offers a wide array of java stocking options, including gift subscriptions.
Powered by the MEP National Network: By partnering with the California MEP Center, California Manufacturing Technology Consulting (CMTC), Klatch Coffee increased its customer base and sales via a customized e-commerce platform, which gave the company the ability to more effectively drive and track leads. The result? The company increased sales by $100,000 and wasable to re-invest $50,000 in new plant equipment to grow the business.
Coats for Your Canine: Ruffwear
With just under 10 employees, Ruffwear has expanded its outdoor canine wear into a full line of gift-size accessories, from food bowls and collars to harnesses and booties.
Powered by the MEP National Network: Ruffwear partnered with Oregon Manufacturing Extension Partnership (OMEP) to begin a continuous journey that increased throughput and boosted lead time from 60 to 30 days. OMEP helped the company identify opportunities that created more efficient flow with its suppliers.
For Popcorn Lovers: Valley Popcorn
With only six poppers in their small home in Oshkosh, Wisconsin, Carl and Carol Freundl created Valley Popcorn, now serving popcorn lovers across the country. The non-GMO, all-natural treats come in single-serving sizes favored by stocking-savvy gift-givers.
Powered by the MEP National Network: The Wisconsin Manufacturing Extension Partnership (WMEP) worked with Valley Popcorn for nine months to help secure Safe Quality Food (SQF) certification, recognized as the global safety standard by food producers and retailers. The SQF certification enabled Valley Popcorn to increase sales by $4 million and plan its expansion to all 50 states.
Fashionably Festive: Homegrown for Good
Homegrown for Good, more widely known as Tidal New York, creates 100% U.S.A.-made flip flops with materials supplied by family-owned companies across the country. This sustainably-sourced footwear makes the perfect holiday surprise for the most ethically-minded and fashion-forward family member or friend.
Powered by the MEP National Network: To become even better stewards of the environment, the company partnered with the Manufacturing and Technology Enterprise Center (MTEC), part of the New York Manufacturing Extension Partnership, to reduce waste, eliminate curing time, and identify production inefficiencies via Value Stream Mapping and Kanban best practices. The company not only saved $60,000 in production investments, it increased production from around 150 flip flops a day to more than 400 a day.
Powering Made in the U.S.A. Holidays: The MEP National Network
Some of the most thoughtful holiday gifts are created by small and medium-sized manufacturers (SMMs), supported by their state MEP Centers. The MEP National Network celebrates these SMM success stories and wishes everyone a happy, made in the U.S.A. holiday season!
Upcoming Events
Impact Dakota Blog