30, July 2018
The Electric Car Market Revs Up

Seeing more electric cars on the road? Last year, sales of electric vehicles (EVs) charged forward, as environmentally minded consumers found less expensive, longer-range models on the market. In 2017, for the first time, new EV sales passed a million units globally (exhibit); by 2020, EV producers could almost quadruple that number to 4.5 million, or about 5 percent of the global light-vehicle market. And by 2030, EVs could rise to almost 20 percent of annual global sales (and almost 35 percent of sales in Europe).
Car buyers across the globe are showing interest—but at varied rates and for different reasons. In 2017, the Chinese market grew by 72 percent over 2016, partly driven by national and local subsidies. China now has a larger EV market than Europe and the United States combined. Europe's EV market grew by nearly 40 percent in the same period, though from a smaller base and powered significantly by Germany, where EV sales more than doubled.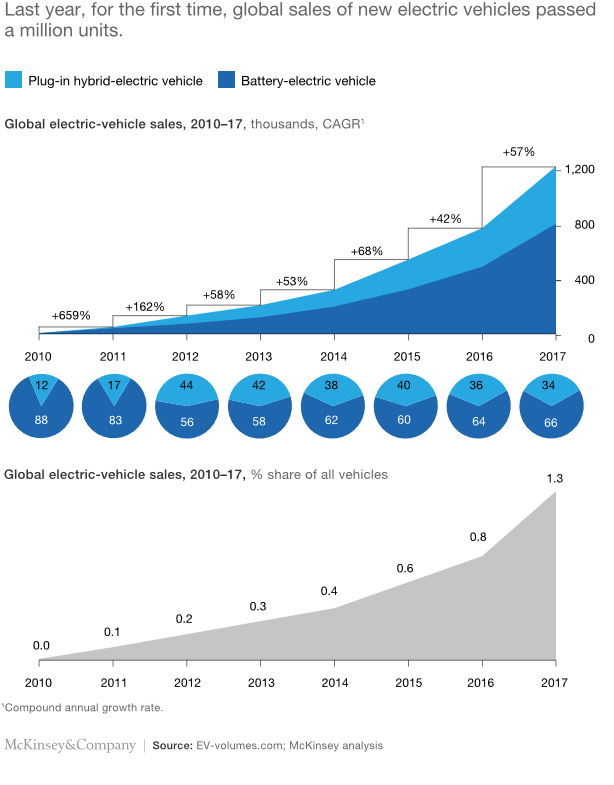 So watch for the market to continue to heat up—although not without some potentially surprising resource implications. Many believe the rise of EVs means we've hit peak oil, for example. But other factors will increase oil demand, including the chemicals and aviation industries; growth in China and other emerging markets; and the overall increase in demand for cars worldwide. EV drivers have broader access to charging infrastructure than in years past, but they'll need many more than the 400,000 stations that currently exist. And higher EV sales will put pressure on the costs of crucial battery inputs, including cobalt and lithium.
Source: https://www.mckinsey.com/industries/automotive-and-assembly/our-insights/the-global-electric-vehicle-market-is-amped-up-and-on-the-rise?cid=other-eml-shl-mip-mck-oth-1807&hlkid=241c9aebb2e446d78aa52fcff52be914&hctky=10376566&hdpid=f2a6149f-215e-4349-aa02-8a8703c83632
Upcoming Events
Impact Dakota Blog