13, July 2017
The Importance of Strategic Planning (Part 2 of 2): Business Continuity Planning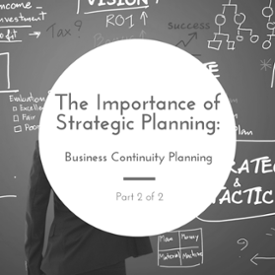 While we always hope for the best, we also must be prepared for all situations. In this second part series about strategic planning, we're discussing Business Continuity Planning.
Areas all across the U.S. have experienced major disasters, from SuperStorm Sandy on the east coast to Hurricane Katrina near New Orleans, to the tornadoes in Joplin, MI. All of these natural disasters were devastating, costing businesses millions. Of course, when a disaster strikes, our top priority is always the safety of people.
In times of crisis, something that can be financially devastating is any abrupt loss of upper management. Businesses can prepare for future natural disasters like these by setting up a Business Continuity Plan. Here are some brief tips for setting one up:
1. Create names & contact lists
Determine the jobs and tasks most vital to your business and the individuals who handle them.
Compile a contact list, making sure you have in case of emergency contacts.
Create a contact list for all of your external suppliers and services, like your bankers, attorneys, and IT providers.
2. Identify critical equipment/software
Create a document, detailing all essential software and equipment necessary for your business, including information for replacements or repairs.
In the case that you cannot access your headquarters, have a planned secondary location, whether it be your home or a hotel, and have your employees telecommute if it is possible.
If your business uses computers for any significant processes, make sure to back up software and invest in an off-site server.
3. Identify your most important documents
Keep copies of your legal documents, articles of incorporation, banking information and any other necessary documents stored somewhere other than your office computers. This way, you can continue to pay your bills if necessary. Store hard copies if possible.
4. Put your plan into action
Use all of this gathered information to create an Action Plan and timeline so all of your employees can follow it if an emergency takes place. It is always a good idea to test your plan ahead of time, and update regularly it as information changes.
These are only a few steps that can be taken to establish a Business Continuity Plan and doing further research to determine which steps best benefit your business is always a good start.
For more information about Impact Dakota's Strategic and Business Planning services, click the button below.
Learn More About
Strategic and Business Planning
About Mark Volesky
Mark Volesky is a Senior Business Advisor with Impact Dakota. Since 2003 Volesky has been assisting companies from a wide variety of industries increase profits and create and retain jobs. He has conducted more than 150 kaizen events, including co-facilitating continuous improvement efforts with Shingijutsu Consulting and Normen Bodek. His emphasis is facilitating the design, development and implementation of lean strategies on an enterprise-wide basis.
Upcoming Events
Impact Dakota Blog