17, April 2015
Three Ways Manufacturing is Boosting North Dakota's Economy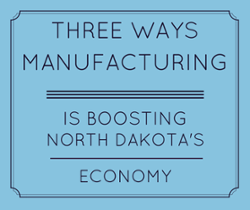 What comes to mind when you hear the word, 'manufacturing'? The industry is critical to North Dakota's economy, so manufacturing should be synonymous with progress and growth!. Did you know that every $1.00 spent in manufacturing creates $1.32 for the U.S. economy? Did you also know that manufacturing supports 17.4 million U.S. jobs and that the industry comprises 12.5 percent of our GDP? Simply put, manufacturing matters.
While manufacturing helps our nation, it also supports The Peace Garden state! Here are three ways manufacturing is boosting the local economy:
Manufacturing output is on the rise: According to the National Association of Manufacturers, manufacturing accounts for 6.6 percent of North Dakota's output in the state, a number which has been steadily increasing in the last decade. In 2012 alone, the output amounted to $3 billion dollars!
Manufacturing pays North Dakota workers well: Manufacturing employs approximately 6 percent of the workforce in the state, and high wages in the industry have a positive impact on our economy. Manufacturing compensation is 37 percent higher than other nonfarm employers. The average annual compensation for someone working in nonfarm sectors is a little over $37,000, while the average for manufacturing is $51,000. More money in the pocket means more money to spend on the local economy!
Exports are increasing manufacturing profits exponentially: Approximately 20 percent of North Dakota's manufacturing jobs are supported by exporting, and in 2010, ND exported $1.7 billion in manufactured goods. That's a lot of work from the "little guy."
These are just some of the many ways North Dakota is benefiting from its manufacturing businesses, and the pros seem to be multiplying every day! If you want to stay in the loop with updated stats, manufacturing news and tips for improvement, don't forget to subscribe to our blog in the upper-right-hand corner of your screen!
And if you're a small manufacturer looking to export, you can also check out the ExporTech program for more information!
About Tony Richards
Tony Richards is the CEO of Impact Dakota. Tony holds a Master's degree in Management from Webster University and a Bachelor from The American University and has co-authored Bushido Business with Stephen Covey, written F.E.A.R. Factor: Re-Kindling the Dream Within, and has written workbooks on business and leadership development.
Upcoming Events
Impact Dakota Blog