4, May 2017
Top 5 Benefits of Green Manufacturing
Manufacturers today need to be well-equipped to handle a variety of pressures to improve the effectiveness of their product while simultaneously looking for ways to cut costs. At face value, "going green" might seem like an impossible task for your business, but there are a surprising number of benefits.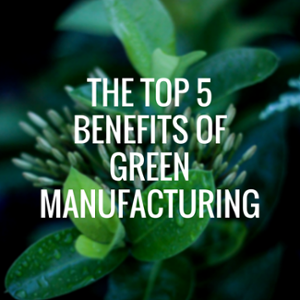 "Going green" has become more popular trend as of late, with more and more businesses opting to make the switch. While it can certainly seem overwhelming, manufacturers who embrace sustainable practices can recognize a positive impact on their bottom line. These benefits can help boost sales, lower operating costs, and more.
Reduce Costs: A manufacturing business can see overall operating costs drop if the green changes are planned accordingly. Having access to solar and wind energy, along with applicable energy-efficient equipment and machinery, can drastically reduce energy and utility bills. Additionally, increasing recycling and going paperless for bills/documents can also save on supply costs.
Tax Credits & Incentives: The U.S. government wants you to go green, too, and as a result, they have developed a series of tax credits and incentives to help manufacturers offset the costs while making the switch. There are credits offered both at the state and federal levels, so make sure to research North Dakota's specific incentives to take full advantage of the services offered. Additionally, several utility companies offer their own incentives and rebates for green changes.
Green Reputation = Sales: Sustainability has become an interest for consumers, and taking your business into that arena can be a great reputation boost. Rebranding your company can open your business to a new market of consumers, and increase your sales overall.
Become More Competitive with Government Contracts: Earning a government contract can be a great feather in a manufacturing business' proverbial cap, but competition is often fierce. By going green, your business has a better chance at earning a contract. Additionally, many contracts are available to only green businesses, which will provide you with even more opportunities to grow and own.
Impact on the Environment: It might not need to be said, but just by taking your business green you're automatically providing a great change for our future. Your business will have a smaller carbon footprint and even reduce the number of toxins released into the atmosphere.
Click below for more information about Impact Dakota's process improvement services.
Upcoming Events
Impact Dakota Blog