21, November 2018
What Happens in Georgia...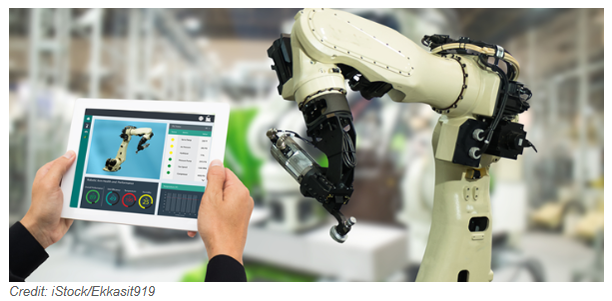 By
By:
…Should not stay in Georgia. Every two years, the Georgia Institute of Technology's Science, Technology, and Innovation Policy (STIP) program and Kennesaw State University survey manufacturers throughout Georgia. The neat thing about this survey is that Georgia Tech has been conducting it since 1994. I think it's a good opportunity to look at what is going on inside the hearts and minds of manufacturing firms and to understand the issues they face. The results are now available and provide a very interesting picture of the shifting manufacturing landscape in Georgia.
The survey asked a range of questions focusing on how Georgia manufacturers deploy and use various information and digital technologies, management practices and production technologies. The survey also looked at the benefits of different business strategies, the use of in- and out-sourcing, and talent development practices. Nearly 480 manufacturers responded to the survey. Here are some of the interesting highlights:
Manufacturers' needs are diverse. Finding workers with the right technical skills and adopting lean manufacturing were the top concerns among Georgia manufacturers in 2018. Marketing and sales needs was the third most prevalent. Interestingly, issues around expansion planning, plant layout and energy management bubbled up as issues that have grown in importance. It's also of note that cybersecurity was identified as a problem and need among only 3.4 percent of the survey respondents—despite surveys in recent years that show manufacturers are increasingly under cyber attack. This gap may reveal an opportunity for MEP to inform and assist manufacturers on important topics of which they're not yet aware.
Different business strategies lead to different bottom-line outcomes. The most important finding from the survey is that innovation has a bottom-line benefit for companies and their employees. The following chart suggests that firms adopting a strategy of innovation have higher profitability and pay higher wages compared to firms adopting other strategies. However, the difference in the returns to different strategies has narrowed over time.
Chart: Returns to Different Business Strategies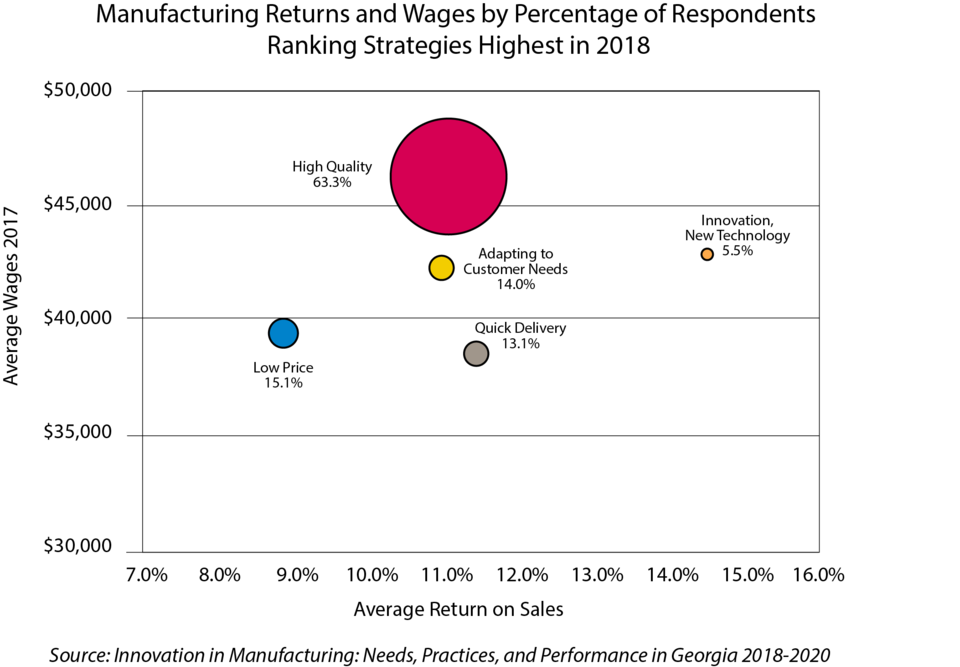 Manufacturers are introducing new and improved products and services

.

Nearly half of the respondents (48 percent) reported introducing a new or improved good or service within their establishment during the 2015-2017 period. Forty-three percent of the respondents reported introducing a new or significantly improved product and 13 percent reported introducing a new or improved service. These introductions of new goods and services were split between two types: 24 percent were reported as being introduced before other competitors and 27.9 percent were new to their facility, but already available from competitors.

New goods and services represented a modest portion of total sales. On average, 15.5 percent of total sales came from goods and services that were new to the market (the median was 10 percent) and sales from goods and services new to the firm, but not the market, represented about 17.6 percent of their total sales (the median was also 10 percent) based on new goods and services introduced over the last three years.
Firms introduced a range of process innovations in addition to introducing new goods and services. Fifty-one percent of the respondents introduced a process innovation into their plant. Forty-one percent reported adopting new or improved production technologies and techniques, and about 10 percent introduced new or improved logistics, delivery or distribution methods, with 19 percent reporting other improvements including those in purchasing, accounting or maintenance processes.
Firms engaged in innovation activities focused on their organization. Nearly 58 percent of the firms responding improved their strategic planning, adopted new or restructured internal management systems, or restructured their organization and their relationships with other firms. Twenty-three percent reported new or significant changes in corporate strategy, while 33 percent implemented new or improved management systems. Just over one third of the respondents reported restructuring how work was organized (33.4 percent), and around 20 percent reported changing their relationship with other firms including new alliances, partnerships, outsourcing and subcontracting.
Forty percent of the manufacturers reported using some type of business assistance provider. The most common sources of business assistance came from universities and technical schools, state agencies and private consultants.
Firms engage in many activities to spur innovation. Sixty-four percent of the firms reported working with customers to create an innovation and 42 percent reported working with suppliers to explore innovation opportunities. Forty-six percent purchased new machinery, equipment, computers and software to spur innovation activities.
Manufacturers deploy a wide range of new manufacturing technologies and techniques. The survey asked respondents about their current or planned use of 20 different manufacturing technologies and techniques. The survey showed a small decrease in the deployment of these techniques compared to the 2016 survey. ERP software for scheduling and inventory control is used by nearly 72 percent of the respondents and computer aided design is used by 63 percent. Surprisingly, lean manufacturing, quality systems or adoption of various ISO standards were being used by less than half of the respondents.
Chart: Current and Planned Use of Various Technologies and Techniques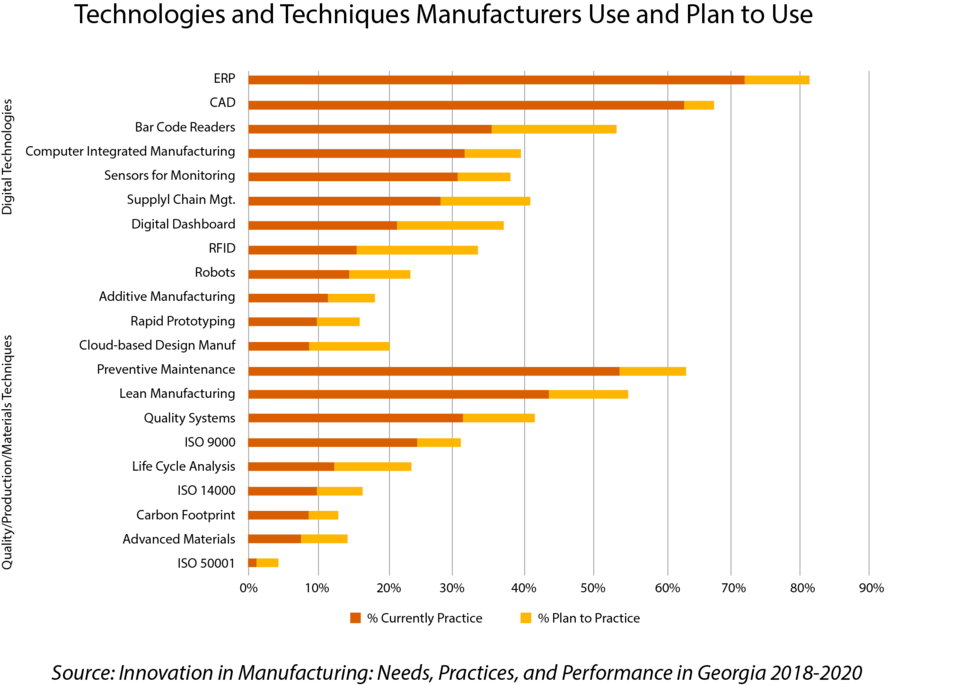 This survey provides a look inside manufacturing firms and their activities. It focuses on areas including innovation, growth, sustainability practices, workforce investments and the adoption of new manufacturing processes and tools. This breaks with the information broken down by firm size and industry: In fact, the aggregate results I reported above mask significant variation across industries and firm size. It is worth scanning the report to see how your firm stacks up or to see where things stand for a cross section of companies.
Whether this data can be generalized beyond Georgia is difficult to say, but the results provide a potential benchmark and a survey tool to use by others. Using this information can guide MEP Center activities in terms of focusing on the areas of greatest need and on new and emerging issues manufacturers are facing. I would love to see other Centers use this information or to undertake their own survey to inform their work and provide valuable insight across the MEP National NetworkTM.
Upcoming Events
Impact Dakota Blog