9, February 2022
Impact Dakota Announces new CEO/President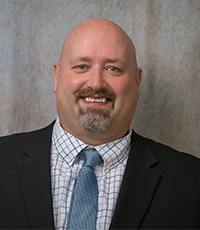 BISMARCK, ND – Jodie Mjoen has been named CEO/President of Impact Dakota.
Mjoen will play a leading role in developing strategy for modernizing North Dakota's manufacturing base and coordinating the interface of technology and growth strategies with the needs of small manufacturers.
Mjoen brings more than twenty-five years of experience across a variety of manufacturing industries including high technology, industrial & military products and service-based business. Most of this time has been spent collaborating with customers, suppliers and leadership roles for various organizations developing and implementing processes and continuous improvement to maximize performance.
He joined Impact Dakota after working in supplier quality engineering and quality leadership roles with United Technologies Corporation Aerospace Systems, a Fortune 100 corporation, at the Jamestown, ND location. Prior to that he worked for Pemstar Incorporated, an electronics contract manufacturing organization in Dunseith, North Dakota where he held various roles, including quality manager & six sigma champion roles. His experiences working with an extensive variety of manufacturing teams throughout the United States and abroad have significantly contributed to his diverse expertise in quality management systems development & compliance, organizational leadership & team development, product & process development, supplier management, risk assessment & mitigation, market expansion, and continuous improvement.
Mjoen received his BS in Business Administration, Management & Marketing, from Minot State University and Master of Arts in Leadership from University of Jamestown. He is certified six sigma black belt, lean manufacturing practitioner and quality management system auditor.
Mjoen is married and lives with his wife in Jamestown, North Dakota. They have two daughters. He is a U.S. Army veteran, former mayor, and he enjoys traveling and adventures with his family when not working.
Impact Dakota is the official representative of the NIST MEP National Network in North Dakota and one of the partner programs with the North Dakota Department of Commerce. Impact Dakota is a technical assistance service organization whose team of experts helps solve the needs of manufacturing businesses through innovative, sustainable, cost-effective solutions. We conduct no-cost detailed needs assessments, outline potential solutions based on the results, and provide technical assistance to help organizations solve those problems. Over the past 20+ years, these support services have been successfully executed with significant impact to sales gained, sales retained, investments made, employees added, employees retained and overall sustaining and growing these organizations.