Are you struggling to take your product international?
Are you turning away sales inquiries from potential international customers because you don't know how to handle them?
Are you frustrated by the lack of direction in your international sales?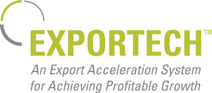 95% of the world's customers live outside the U.S. If you aren't exporting, you're missing out on potential business! The ExporTech™ program is designed to help your company enter or expand into global markets. Utilizing a team of recognized exporting resources and experts, Impact Dakota will help your company strategically develop an accelerated exporting plan.
The ExporTech™ program consists of 3 full-day training sessions, held about a month apart. In those sessions, you will gain an understanding of how exports can be a major growth driver for your company, identify and evaluate the challenges to expansion, and present your final plan to a panel of experts for additional input and guidance. Between the sessions you will work with the facilitators and experts on market research and the development of a customized international growth plan for your company.

"Any company that is either considering international business or is an experienced exporter should think seriously about participating in ExporTech. It's all about the strategic thought process and how you best plan to maximize your effectiveness. Good stuff!" — Robert Sinner, SB&B Foods, Casselton, ND
To find out more information about ExporTech™, download this flyer, or read this white paper.
Contact Laurie at Impact Dakota, 701-354-0988, or 866-297-8250, with any questions.
Upcoming Events
Impact Dakota Blog