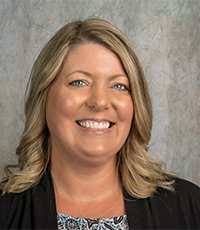 Wendy Hauff
Senior Business Advisor
Wendy Hauff, is a Manufacturing and Quality Engineering Professional with 20+ years of Process Development, Continuous Improvement and Project Management experience. She has spent her professional career working in Aerospace and Defense industries concentrated in Avionics and Cargo; recently moving into Aerial and Compact Equipment with a process focus on Assembly, Fabrication, Welding, Paint, Material Management, Inspection and TPM.
Wendy has experience in leading larger teams as well as leading smaller teams of skilled business professionals while monitoring and measuring KPIs, conducting audits, working in cross-functional teams, and driving Continuous Improvement Projects, Kaizens, and Rapid Improvements.
She has worked closely with Plant Managers, Supervisors, Quality and Manufacturing groups to drive change with a focus on improving SQDCs utilizing DMAIC, A3 and PDCA methodologies utilizing LSS tools related to VSM, 5S and SW. She provides a focus on Training and Development as well as closing the gaps on Strategic planning leading to profitability.
In these roles she has developed strong relationships, communication and training skills with teams and cross-functional teams to accomplish many goals such improving Efficiency and Quality, reducing costs, implementing 5S programs, obtaining Certified Supplier Status and AS/ISO Certifications.
Wendy is excited to bring ideas from her prior work experience to ND businesses in improving their processes, knowledge, leadership, and workforce.
Wendy received her BS in Aerospace Engineering, from Embry-Riddle Aeronautical University, Arizona. She is a trained six sigma black belt, lean manufacturing practitioner and trainer as well as a quality management system auditor.
Wendy is married and lives with her husband and 4 sons in Oakes, North Dakota. She enjoys spending time traveling and at the lake with her family when not working.
Upcoming Events
Impact Dakota Blog