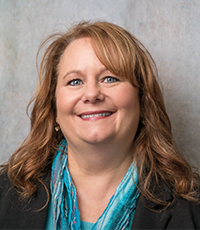 Laurie Schaffer
Marketing Director
Laurie Schaffer, Marketing Director, has over 20 years of varied work experience in advertising, graphics design, production, customer service, marketing and management. She has worked for the ND Newspaper Association in a variety of capacities: Advertising and Office Assistant, Production Manager, and Marketing Manager/ Director of Publications. Her duties included organizing and completing all aspects of association-based advertising programs for member newspapers and clients; coordinating newsletter production; planning and producing kits to promote services; planning and coordinating the annual convention, and maintaining several websites.
Schaffer honed her graphic artist skills while working at Associated Printers and at Kranzler Kinglsey Communications where she designed and developed ads, worked on layout and production, and developed communication skills through customer service.
Schaffer also has worked for United Blood Services as both Donor Recruitment Representative and Donor Recruitment Supervisor. She was responsible for coordinating blood drives, conducting meetings, participating in educational and public speaking engagements, coordinating public relations, and developing marketing and promotion pieces. She also hired, supervised, and trained donor recruitment, donor relations and telerecruiting department personnel and participated in departmental and team goal setting.
Most recently, she worked for Burleigh County in the office of Auditor/Treasurer/Tax Equalization as the Project/Election Coordinator. She was responsible for several aspects of the county-wide elections; including, hiring over 200 election workers, coordinating training sessions, coordinating technology needs, testing election equipment, organizing voting precincts and election equipment deliveries. In addition, she worked on other projects including annual tax statements and coordinating a major software project from RFP to conversion to implementation.
Schaffer is a graduate of University of North Dakota in Grand Forks, holding a Bachelor of Business Administration degree with a Marketing major. She is also a graduate of the 2005 Bismarck-Mandan Chamber of Commerce Leadership Program. Schaffer is a past board member for the Optimist Club of Bismarck and the Burleigh-Morton Chapter of the American Red Cross.
Upcoming Events
Impact Dakota Blog