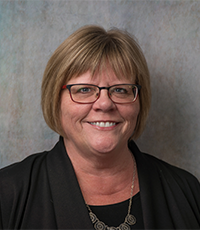 Darcy Vaughan
Senior Administrative Assistant
Darcy Vaughan is the Senior Administrative Assistant. She is responsible for maintaining accounts receivables for Impact Dakota clients. She works with the Operations teams to track each project from the initial contact, through the quote, assessment, proposal, and finally the project processes utilizing the 360vu business portal, ensuring that information required for NIST reporting, for each project, is accurate and timely.

Vaughan also serves as Impact Dakota website technician assuring the continuance of up-to-date information on events, board members, staff and success stories. Along with offering administrative support services she works with the sales and marketing staff to organize training opportunities and workshops throughout North Dakota. She is responsible for designing and creating brochures and fliers to promote those upcoming events for Impact Dakota.

Vaughan brings with her over 20 years of administrative support experience. She is a CIS/Software Specialist with certifications in Microsoft Access and Excel. She earned an AAS degree in Financial Services from Lake Area Technical Institute in Watertown, SD in May 2004. She continues to attend professional development courses in continuing education for technology and business.
Upcoming Events
Impact Dakota Blog