26, October 2018
Manufacturing in North Dakota Celebrated in October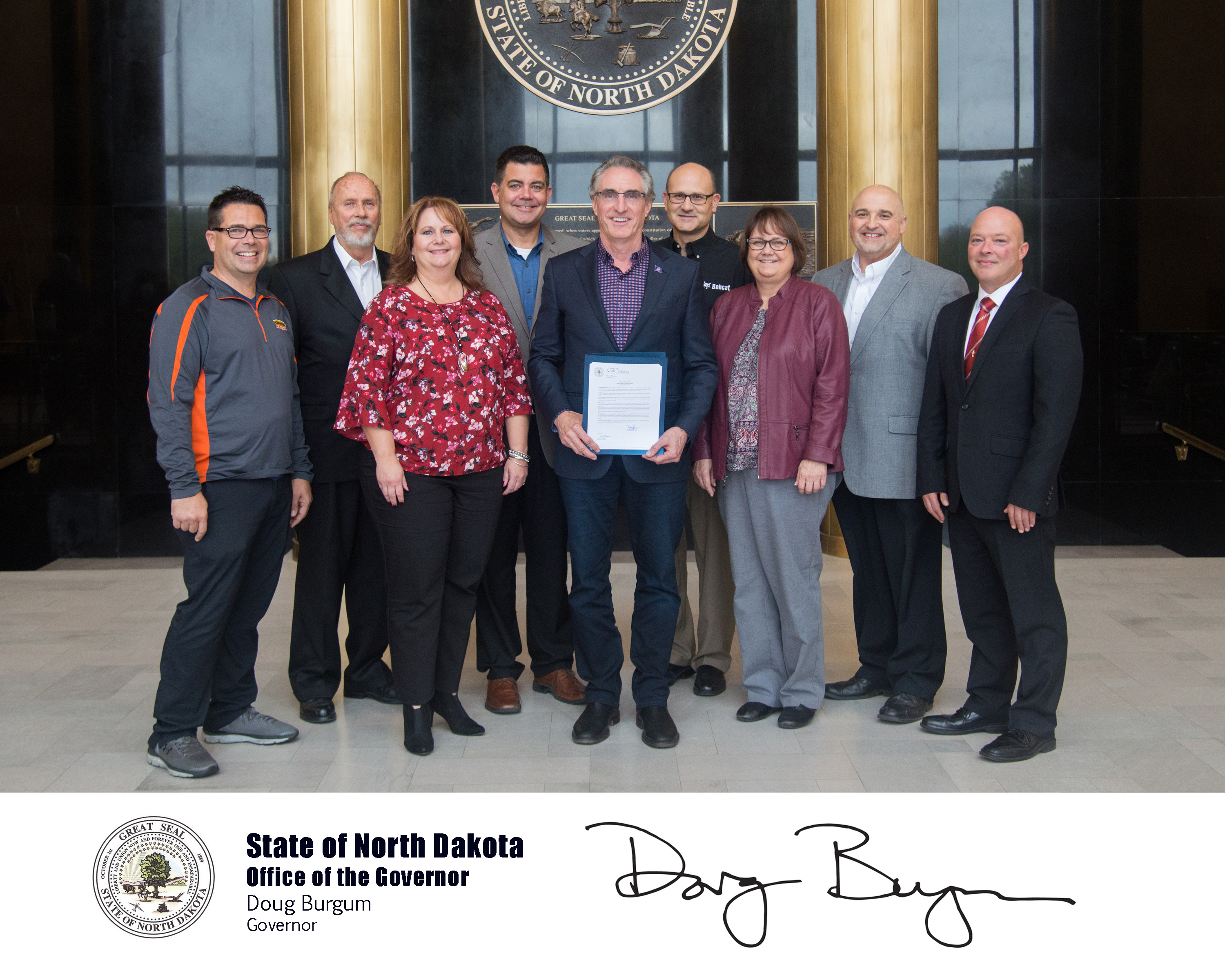 L to R: Sam Towner, Cloverdale; Robert Gibbons, G.F. Equipment; Laurie Schaffer, Impact Dakota; Brad Boyd, Impact Dakota; Governor Doug Burgum; Dean Kuhn, Bobcat; DeAnn Berg, Impact Dakota; Tony Richards, Impact Dakota; John Schneider, ND Department of Commerce
_________________________________________________________________________________
MANUFACTURING IN NORTH DAKOTA CELEBRATED IN OCTOBER
Manufacturing tours and events were held across the state
BISMARCK – Communities in North Dakota celebrated National Manufacturing Day October 5 by hosting tours of manufacturing companies and educational facilities. The event is designed to create a better understanding of and expand knowledge about manufacturing as a career choice, and to emphasize the industry's value to North Dakota's economy.
Governor Burgum declared October 5, 2018 as Manufacturing Day in North Dakota. Click here to view the official Proclamation.
"Manufacturing Day events in North Dakota are meant for anyone who is curious about modern manufacturing and who would like to know more about what happens in modern-day manufacturing facilities," Tony Richards, chief executive officer of Impact Dakota said. "Students, parents, educators, media and civic leaders were encouraged to attend the events."
Manufacturers in North Dakota account for 6.7 percent of the total output in the state, employing 5.5 percent of the workforce. Total output from manufacturing was $3.72 billion in 2017. In addition, there were over 25,000 manufacturing employees in North Dakota in 2017.
Manufacturing Day Events in North Dakota:
Southwest Area Manufacturers Expo

was held on October 3 at the Biesiot Activities Center in Dickinson. 543 area high school students attended this event which showcased manufacturers in the southwest portion of North Dakota. Companies participating included: Fisher Industries, Killdeer Mountain Manufacturing, Baker Boy, Steffes Manufacturing, Palmer Manufacturing and Tank, and TMI Systems Corporation.

Northern Valley Career Expo

will be held on October 31st at the Alerus Center in Grand Forks. This event is designed for high school students in the northeast portion of the state. Participating manufacturers include: Titan Machinery, True North Equipment, Cirrus Aircraft, J.R. Simplot, Motor Coach Industries, Northrop Grumman Corporation, Retrax Holdings, LLC, American Crystal Sugar, Custom Aire, LM Wind Power, Marvin Windows and Steffes.

Pembina and Walsh Counties - The Pembina and Walsh County JDAs worked with area manufacturers to provide tours for more than 230 seventh grade students in Walsh and Pembina Counties on October 3rd. Each student visited two manufacturers during the day. Manufacturers included: Bordertown Retail Systems, Food First LLC, Harriston Industries, Marvin Windows and Doors, Morgan Printing, Midwest Fabrication, Motor Coach Industries, and Woodside Industries.

Fargo -

The Greater Fargo Moorhead Economic Development Corporation hosted 250 students from local high schools for tours on October 3rd. Manufacturers included: Spectrum Aeromed, Integrity Windows and Doors, McNeilus Steel, Inc., Case New Holland, John Deere Electronic Solutions, Caterpillar Reman Drivetrain, Northern Plains Steel, Solid Comfort, Prinsco, Mackow Industries International, Doosan Bobcat, Rapat Corporation, dogIDs, Trail King Industries, Appareo Systems, GPK Products, Korber Medipak, NDSCS

Wahpeton -

The Wahpeton community hosted 240 students from ten area high schools for tours on October 3rd. Manufacturers included: Bobcat, ComDel Innovation, Woodcraft Industries, Minn-Dak Farmers Coop, WCCO Belting, Giants Seeds, Aaseby Industrial Machining, Bigwoods Electric Motor, Wil-Rich and the North Dakota State College of Science Training Center.

Jamestown –

The Jamestown Regional Entrepreneur Center hosted a Manufacturing Day event on October 17th for over 80 area high school students. Manufacturers included: John Deere, Doosan Bobcat, Newman Signs, Great River Energy, Midwest AgEnergy, Dura Tech Industries International Inc., and Cavendish Farms.

McKenzie –

Menards offered high school students tours of their manufacturing plant on October 5th.

Spiritwood –

Midwest AgEnergy provided a presentation and tour to area seventh grade students on October 11th.

Underwood –

Midwest AgEnergy provided a presentation and tour to area seventh grade students on October 12th.

New Town –

Northrop Grumman provided tours and science activities for local students on October 3rd.
Upcoming Events
Impact Dakota Blog