Internal Auditor Training: AS9100D
02/06/2024 8:00 AM - 02/07/2024 5:00 PM Fargo, ND


Impact Dakota will be presenting AS9100 Internal Auditor Training. This two-day training will focus on the AS9100D Quality Management System.

Dates: February 6-7, 204

Time: 8:30 a.m. - 4:30 p.m. both days

Cost: $895

Location: Fargo, ND (Specific Location TBA)

Registration Deadline: January 30th. Class size is limited. Training will be held pending sufficient registration.
NOTE: Participants should have their own copy of the AS9100 standard. Lunch is included.


WHAT IS IT?
AS9100 fully incorporates the entirety of the current version of ISO9001; while adding requirements relating to quality and safety in the aviation, space, and defense industry. Major aviation, space, and defense manufacturers and suppliers worldwide require compliance and/or registration to AS9100 as a condition of doing business with them.

In this training, participants will gain the knowledge and skills they need to audit your company's quality system to the AS9100 standard, the requirements, auditing principles, how to establish an audit program, gather objective evidence, and prepare audit conclusions. In addition to the lecture, participants will get to do experiential activities and gain hands-on auditing practice. There will be ample time throughout the training for questions and answers.

OBJECTIVES:
• Explain the purposes of the AS9100 standard.
• Describe the structure and elements of AS9100.
• Describe the changes included in AS9100 updates.
• Understand the importance of a "process approach" and what the strategy means for organizations.
• Explain the basic principles, techniques, and steps for auditing to AS9100.
• Describe techniques for effectively working with others when conducting audits.

WHO SHOULD ATTEND:
Personnel involved in conducting or supporting internal audits. Your company doesn't need to be AS9100 registered to benefit from this training; your trained employees can audit your current quality systems as a method to continuously improve.
ABOUT THE PRESENTER: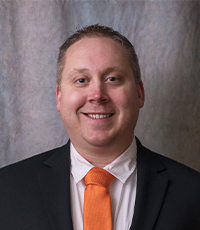 Reese Forester, Senior Business Advisor, joins Impact Dakota with more than 18 years of experience in the manufacturing industry. He started his career in aerospace manufacturing during college working as an intern at Goodrich Corporation. Holding the titles of Engineering Technician and Material Acquisition Administrator, he supported programs for Boeing, Airbus, Sikorsky, Lockheed Martin, and General Dynamics aircraft. Taking over the tundra and the mountains, he continued his career at Arctic Cat in design engineering developing and testing world class snowmobiles. During the summer months, Reese directly supported Arctic Cat's moving production line with multi-level bill of materials used to produce each unit, utilizing accurate and concise communication in a fast paced, high output environment.
Most recently, Reese headed back to the sky to lead suppliers in quality and compliance as the Senior Quality Engineer at Collins Aerospace, a subsidiary of Raytheon Technologies Corporation. He traveled the U.S. visiting sub-tier manufacturers to conduct compliance audits, gap analyses, special assessments, source inspection, and root cause analysis. The experience provided him with a broad understanding of numerous manufacturing processes and techniques. Reese is an experienced AS9100 Aerospace Auditor.
Reese also brings 15 years of experience owning and operating his own business. From this experience, he carries a unique perspective and ability to relate to the challenges and opportunities North Dakota businesses may encounter on their path to success. His belief in the strength of the people of North Dakota supports a commitment to help others overcome obstacles to achieve their goals.
Upcoming Events
Impact Dakota Blog