Are you confused by what the differences are between "Lean" and "Six Sigma"?
Are you questioning which program is best for your organization?
Wondering whether you can combine them?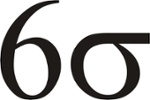 Impact Dakota will help you understand the common aspects and differences of Lean and Six Sigma, and where combining Lean's focus on waste reduction with Six Sigma's quality focus can potentially accelerate your improvement efforts. You'll learn the five laws of Lean Six Sigma and determine when to use which tools to solve problems and sustain continuous improvement.
Upcoming Events
Impact Dakota Blog