Are you frustrated by bottlenecks in your flow of materials and product through your facility?
Are you concerned your current plant is too small for growth?
Does the thought of adding additional equipment give you financial heartburn?

It is estimated that between 20% and 50% of the total operating expenses within manufacturing are attributed to material handling – both materials and product - and it is generally agreed that effective plant layout can reduce these costs by 10% to 50% or more!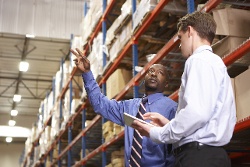 Plant layout can significantly reduce costs and dramatically improve capacity using the same square footage.
Integration of Lean concepts in the design throughout the facility is an effective way to improve flow, capacity and profitability.

Optimized planning and implementation requires the involvement of the process experts, so training in the concepts of Lean plant layout is critical to success. Impact Dakota can lead you throughout the entire process:
Discovery and assessment, including value‐stream and process mapping of the current and future states of the product families and associated processes.
Development of the plan to achieve the future state (goals and objectives) incorporating lean concepts and classic industrial Engineering techniques.
Phased project management of the plan, CAD drawings and implementation.
Post project support and benefits assessment.
Upcoming Events
Impact Dakota Blog