Are you frustrated by the length of time it takes to get your product from customer order to actual delivery?
Do your employees seem real busy, but your organization's productivity is low?
Are you confused on where to begin your organization's Lean transformation?

The Value Stream Mapping (VSM) is a tool used by Impact Dakota to create a material and information flow map of a product or process. This powerful tool allows you to map the flow of products and information from initial order to the putting of cash in the bank, including the external supply chain:
"See the flow" of your value stream and the wastes in the flow process
View all products and services from a system perspective
Draw both material and information flows of your value stream
Design a blueprint for LEAN transformation - the Future State Map
Prioritize activities to achieve the Future State and put together your implementation plan
Impact Dakota can host a VSM workshop where you actively participate, using the powerful VSM tool to create a current state map of your organization, product line, process, or specific target area. You learn the common language of Lean as you draw your current state map, and then identify the non-value added activities. Finally, you draw a future state map and we help you to develop an implementation plan for attacking those specific non-value added activities.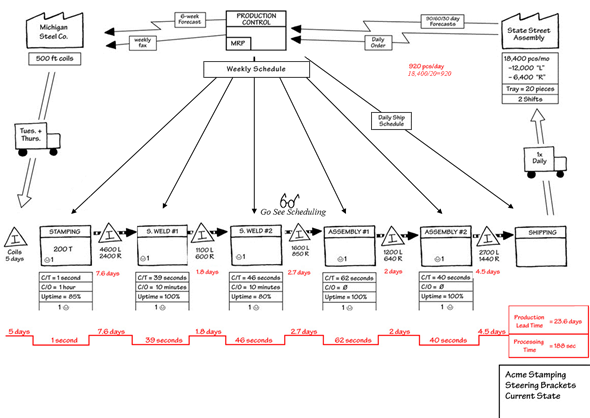 Upcoming Events
Impact Dakota Blog