19, January 2018
Manufacturing Value-Added Output Rose $2.25 Trillion in Third Quarter, another All-Time High
January 19, 2018 By Chad Moutray Economy, Shopfloor Economics, Shopfloor Main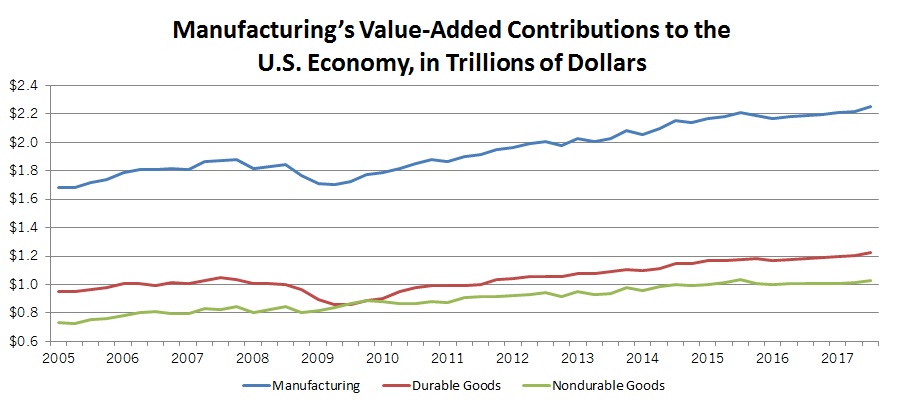 Real GDP grew 3.2 percent in the third quarter, boosted by strength in consumer and business spending and net exports and extending the 3.1 percent gain seen in the second quarter. According to new data from the Bureau of Economic Analysis, manufacturing added 0.24 percentage points to top-line growth in the third quarter, with mixed results for the sector. Real value-added output grew by 2.0 percent for manufacturers in the third quarter, buoyed by a 7.5 percent growth rate for durable goods firms but weighed down by a 4.1 percent decline for nondurable goods businesses. The latter were hit hard by recent hurricanes, especially in chemical and energy markets.
Other top contributors in the third quarter to real GDP included finance, insurance, real estate, rental and leasing (1.10 percent), information (0.42 percent), professional and business services (0.40 percent), educational services, health care and social assistance (0.39 percent), retail trade (0.36 percent), wholesale trade (0.21 percent) and mining (0.16 percent). In contrast, there were some drags to growth from utilities (-0.10 percent), construction (-0.05 percent) and agriculture, forestry, fishing and hunting (-0.02 percent).
Overall, manufacturing gross output increased from $5.949 trillion in the second quarter to $6.031 trillion in the third quarter, up for the sixth straight report and rising to its highest point since the fourth quarter of 2014. After struggling with a number of global challenges over the past couple years, these findings help to illustrate recent improvements. Gross output from manufacturers have stabilized since bottoming out at $5.607 trillion in the first quarter of 2016. In addition, gross output from durable (up from $3.029 trillion to $3.086 trillion) and nondurable (up from $2.920 trillion to $2.946 trillion) goods were also higher in the quarter, with each notching their best figures since late 2014.
Those findings closely mirrored the value-added data for manufacturing, which rose from $2.219 trillion in the second quarter to $2.252 trillion in the third quarter, another new all-time high. Value-added output for durable goods increased from $1.205 trillion to $1.224 trillion, with nondurable goods value-added rising from $1.014 trillion to $1.028 trillion. The bottom line is that manufacturing accounted for 11.5 percent of real GDP in the third quarter, which was unchanged from the prior report.
Adjusting for inflation, there was also a new all-time high for real value-added output in manufacturing, up from $1.949 trillion in the second quarter to $1.958 trillion in the third quarter. Those figures are in chained 2009 dollars, and the latest number edged out the previous peak of $1.955 trillion recorded in the third quarter of 2007, or just before the start of the Great Recession. It bottomed out at $1.694 trillion in the first quarter of 2009 before beginning to trend higher. In the third quarter, real value-added output was higher for durable goods, up from $1.123 trillion to $1.143 trillion in third quarter, but lower for nondurable goods, off from $0.836 trillion to $0827 trillion.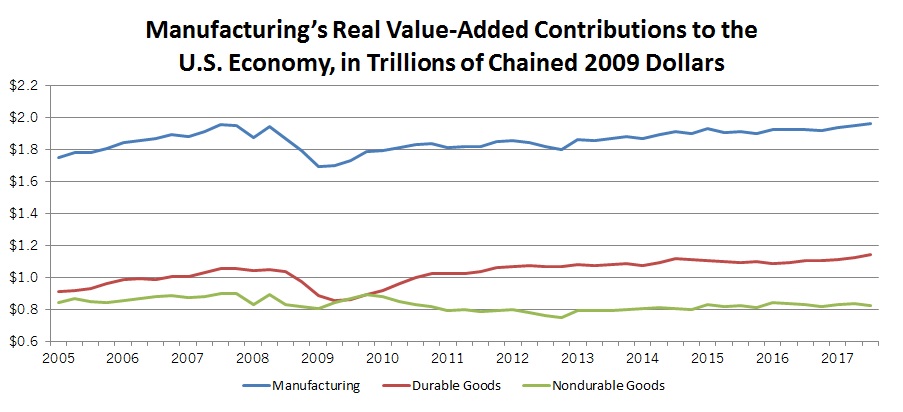 About the Author: Chad Moutray is chief economist for the National Association of Manufacturers (NAM) and the Director of the Center for Manufacturing Research for The Manufacturing Institute, where he serves as the NAM's economic forecaster and spokesperson on economic issues. He frequently comments on current economic conditions for manufacturers through professional presentations and media interviews. He has appeared on Bloomberg, CNBC, C-SPAN, Fox Business and Fox News, among other news outlets.
This article originally appeared: http://www.shopfloor.org/2018/01/manufacturing-value-added-output-rose-2-25-trillion-third-quarter-another-time-high/?utm_medium=NAMSocial&utm_source=Twitter&utm_campaign=EconNews
Upcoming Events
Impact Dakota Blog