Are you losing customers to more innovative companies and products?
Are you frustrated by your current employee suggestion system?
Do you feel your employees are not innovative?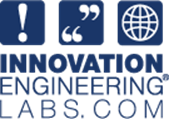 The Innovation Engineering Management System (IEMS) is a scientific method for accelerating more profitable products, services, customers, markets and processes.
Innovation Engineering is based on the systems thinking principles of Dr. W. Edwards Deming. You know Dr. Deming from his work with the Toyota Production System, LEAN, and Six Sigma. What you probably don't know is that Dr. Deming wrote that the factory offered 3% opportunity for company improvement." The greatest gains for system thinking were in the areas of strategy, innovation, and how we work together.
For the first time a system for delivering RELIABLE and REPRODUCABLE results is now possible. Until recently the data and discipline to optimize the ability to create, communicate, and commercialize ideas was not available. Quantitative research on over 26,000 innovations, 12,000 teams, and over $8.1 Billion in real world projects has turned innovation from a random gamble to a reliable system.
Innovation Engineering has many ways to see, feel, and touch to learn more about the system and how it can help your organization, but our two most popular offerings are the Innovation Engineering Experience, a 1.5 day learning session, and the Innovation Engineering Express, a 4 hour event. Both sessions are like drinking through a fire hose – sit back, relax and listen as we take you through 7 University courses in record time. By the way, there really is no sitting back and relaxing as everything we do is interactive. In either session you'll apply what you learn to case studies and end with a rapid fire Innovation Engineering Activation Session – talking with your team about the future of innovation at your company.
Click here to view a quick video overview: How Does Innovation Engineering Work?
The IEMS system will help your company:
Bring clarity to your organizational goals and strategies
Align your innovation activities with those goals and strategies for laser focused ideas
Increase the speed of innovation by 6x
Decrease the risk of failure by 30-80%
Integrate new ideas with your existing processes
Develop a quantified pipeline of ideas for improving products, services, processes, markets
Build a company culture that embraces and sustains innovation
Contact Impact Dakota by completing the form below if you are interested in doing an online company Innovation Culture Assessment or learning more about an Innovation Engineering Experience or Express session.
Upcoming Events
Impact Dakota Blog